Vegan Corn Fritters w/ Thai Red Curry Paste
Corn Fritters are a childhood favourite of mine. We used to make them a lot when we had guests coming over. They are nostalgic and at home we love to eat these kind of comfort foods. These crunchy goodies are also perfect as a bonfire snack for those cool summer nights.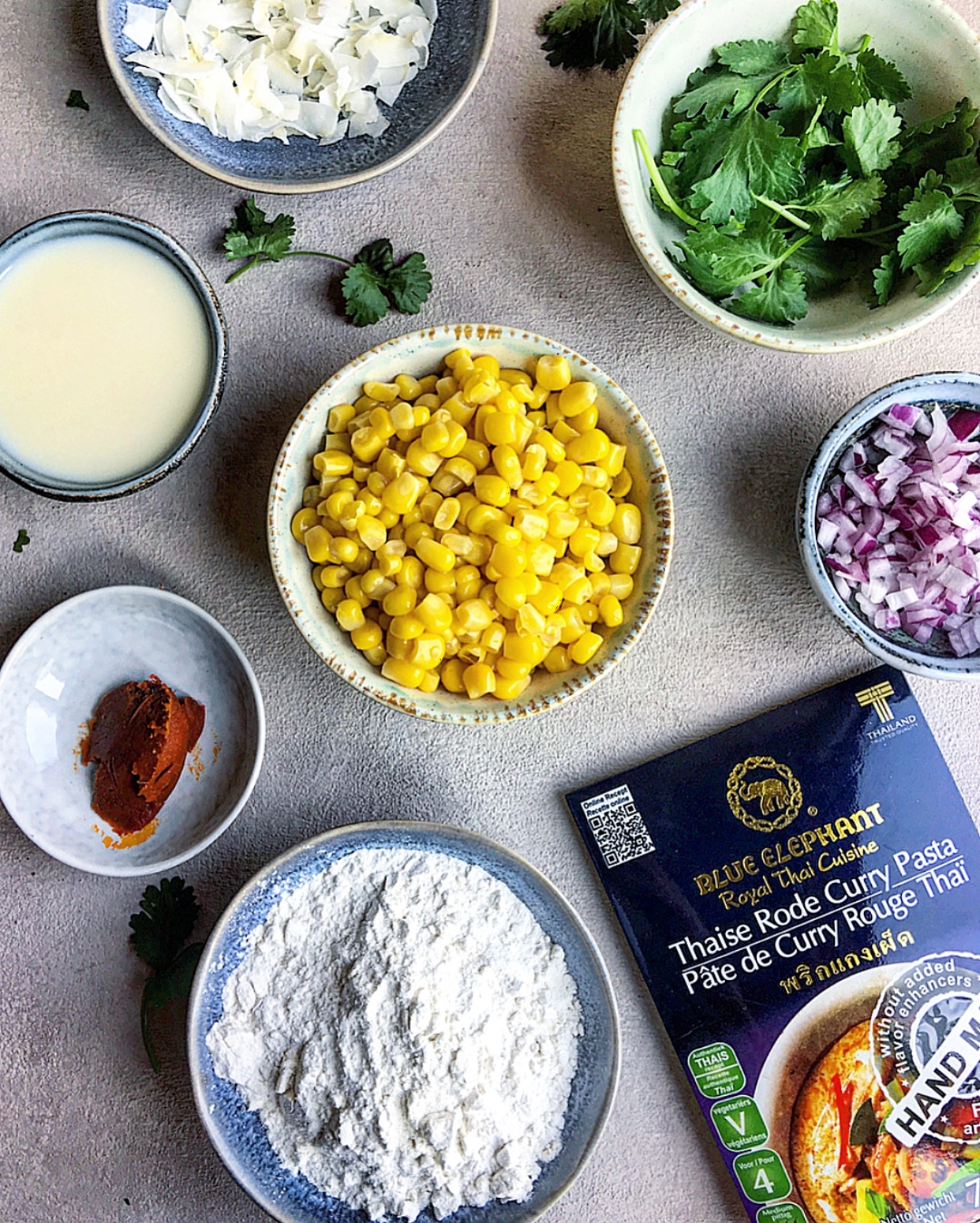 For this recipe you can use fresh/frozen or canned corn. I've used canned corn by Bonduelle, even though it's not the same as fresh corn it still tastes sweet. Besides, when you want to make a quick meal, keeping canned goods in your pantry is always wise!
You can serve these spiced vegan Corn Fritters as a light lunch, appetizer, snack or even as a side dish. They are extra crispy on the edge, soft in the middle and so delicious. Dig in! 


>> Celebrate the Thai cuisine with these fresh and fragrant fusion recipes made with the Blue Elephant curry pastes: Thai Green Curry and Thai Yellow Curry Fried Shrimp w/ Panko Coconut Crumb.
Vegan Corn Fritters w/ Thai Red Curry Paste
Prep: 10 min

Total: 20 min
---
Vegetables
Ingredients
NOTE: this recipe makes 6 big Corn Fritters or 8 small ones.

For the Corn Fritters:
- 1 cup corn (canned by Bonduelle)
- ½ cup all-purpose flour (to make a gluten-free version, replace with chickpea flour)
- ½ cup Alpro Soy Milk 
- ½ tbsp Thai Red Curry Paste by Blue Elephant
- 1 tsp garlic powder
- 2 tbsp fresh coriander (optional)
- 2 tbsp coconut shavings (optional)
- half a red onion (chopped)
- a pinch of salt & pepper
- olive oil for frying
For the sauce:
- 3 tbsp of coconut cream by Blue Elephant
- 1 tsp Sriracha
- pinch of garlic powder
- pinch of salt
For garnish:
- fresh coriander
- toasted coconut shavings 
Instructions
Mix all the ingredients in a bowl, except for the Alpro soy milk and curry paste. Thin out the curry paste with a few spoons of soy milk and then add the rest of the milk. Add this substance to the rest of the ingredients until you get a lumpy batter.


Heat 1 or 2 tablespoons of olive oil in a pan.


Spoon a 1 ½ tablespoons of the corn mixture into the pan. With your spoon try to form patties and cook the fritters until they are golden brown on both sides, about3 minutes per side. After they are cooked let them sit on some kitchen towel paper before you serve them.

To fully enjoy the Thai Red Curry experience do serve these Corn Fritters with the coconut Sriracha sauce. You won't regret it. I promise!

If you make my recipes please tag me in them and use #thespicedchickpearecipes. I'd love to see what you've made!