Turkish Style Chicken Meatballs w/ Spiced Yoghurt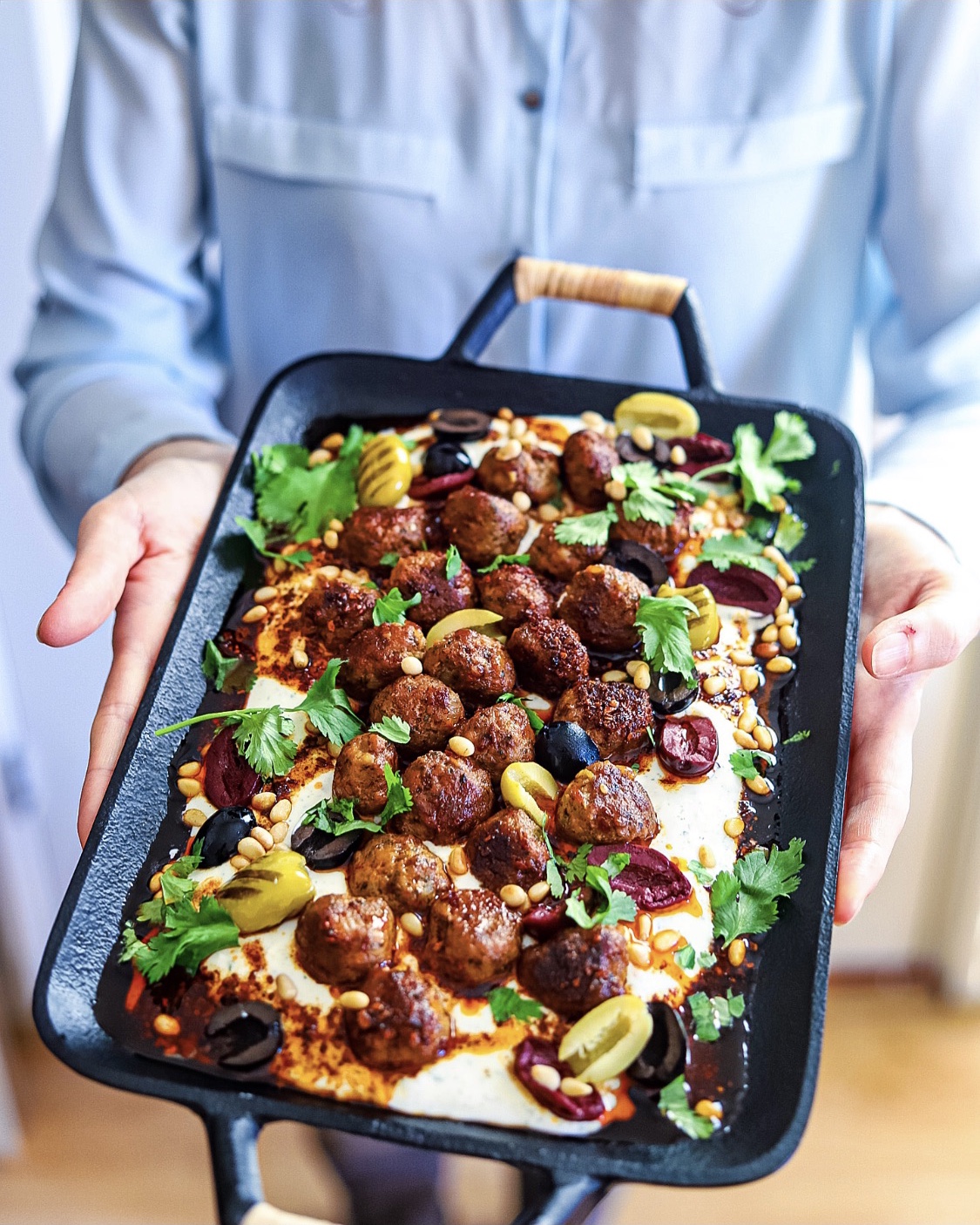 Now when it comes to the Turkish kitchen, I have a soft spot for their meats, breads and spices. I just love the smells and food combinations. Also, it's just the perfect food to serve when you have guests coming over (I mean when that's possible again in this lockdown) or when you want to do a buffet dinner. Imagine the roasted meats, salads, pieces of breads, sauces and all those beautiful colors and fragrant smells - that's what's food is all about! These Turkish Style Meatballs are perfect for that! Also, you can make them in advance, have them the next day on a sandwich, in a salad, or as your work – stay at home – lunch. So eat like the Ottomans did and enjoy these Turkish flavours at home!

>>Make my Turkish Eggs (Cilbir) on Toast too! Perfect as breakfast or lunch! 
Turkish Style Chicken Meatballs w/ Spiced Yoghurt
Prep: 15 min

Total: 45 min
---
Meat
Ingredients
- 300 gr chicken mince for 25 mini, 12 medium sized or 6 big chicken meatballs
- 2 garlic cloves (minced)
- ½ white onion (finely chopped and lightly sautéed in some oil until translucent)
- 1 tbsp Turkish Spices (see below)
- 1 tbsp parsley (fresh or dried)
- salt & pepper to taste

- 2 tbsp olive oil for frying
- non-stick pan

For the Turkish Spices
- 5 tbsp Pimenton (smoked pepper powder) / paprika powder
- 1tsp garlic powder
- 1tsp onion powder
- 1 tsp coriander powder
- 1 tsp black pepper
- ½ tsp dried thyme
- ½ tsp dried fennel seed (toast and then grind them)
- ½ tsp cumin powder
- ½ tsp salt 
- ¼ tsp cinnamon powder
- ¼ tsp chili powder / cayenne pepper

NOTE: The recipe for the Turkish Spices is adapted from kruidenmix-maken.nl 

For the yoghurt sauce
- 1 cup of Turkish/Greek yoghurt (room temperature)
- 1 garlic clove (minced)
- 1 tbsp fresh dill and parsley
- 3 tbsp chili oil (3 tbsp olive oil + 1 tbsp Pul Biber (Turkish chili flakes) + 1 tsp garlic powder. Heat that up.)

For garnish:
- red, black green olives (what you prefer)
- dill, parsley or coriander leaves
- pine nuts (toasted)
Instructions
Make the Turkish spice mix in advance and season your chicken mince with the spices and the rest of the ingredients.


When the chicken mince is mixed, form your chicken meatballs and cook them for about 15-20 minutes in pan over medium heat. When the chicken meatballs are cooked, let them chill.


Then prepare your yoghurt sauce by combining the ingredients and set this aside. Heat up the olive oil, Pul Biber (Turkish chili flakes) and garlic powder until it coming to a boil. Set this aside.


Then assemble your dish by spreading out the yoghurt on a plate, top it with the meatballs and drizzle the chili oil over it. Garnish with fresh dill, parsley or coriander leaves, olives and some toasted pine nuts. Serve with Bulgur, rice or flatbread (pita, Lavash or Turkish bread)!

TIPS:
- Serve these chicken meatballs with Turkish, Lavash, pita bread or Bulgur.
- Use whatever meat or vegan meat you prefer.
- Add poached eggs for an extra lush meal!

If you make my recipes, please tag me in them and use #thespicedchickpearecipes. I'd love to see what you've made