Tteokkochi w/ Chicken Sausage & Spring Onion
Ever since I started watching Korean vlogs (sometimes the YouTube algorithm does wonders ;-)), I've been learning about new ingredients, flavour combinations (I mean American cheese with spicy noodles?! Genius!), drinks (whipped instant coffee with your milk anyone?) and using my kitchen equipment for cool lunch ideas (remember my Croque Madame Croffles?). I must say the Koreans do it better when it comes to viral food ideas - and I'm enjoying them to the max!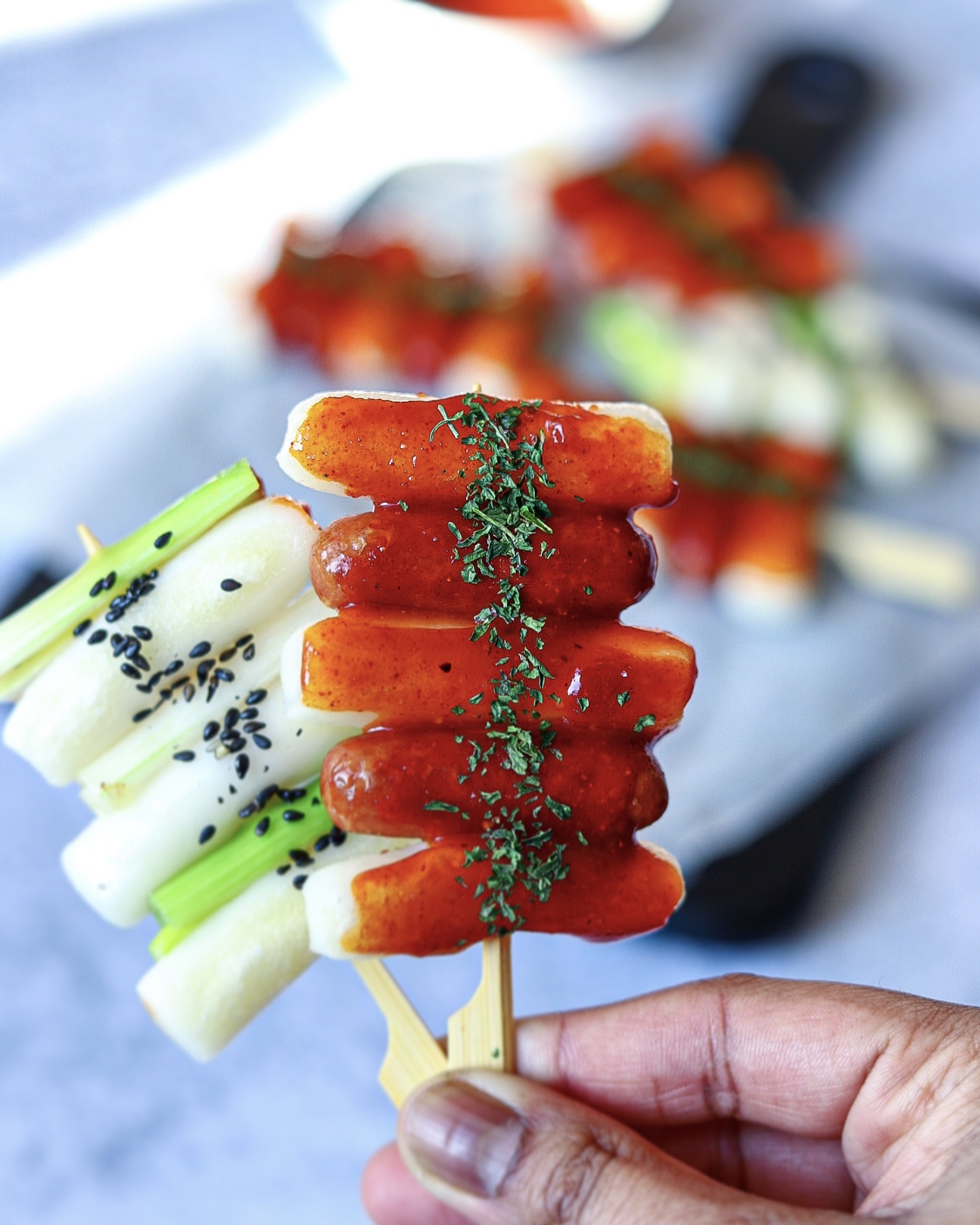 Like these Tteokkochi, they are made with rice cakes/sticks which you can buy at any Toko or Oriental store, sausages and spring onions. They are a perfect appetizer, snack or side dish. I mean this is something different than your usual pigs in a blanket or spiced sausages. You can make these Tteokkochi vegan by using vegan sausages or vegetables. Even the sauce is veganizable ;-) And what's even more wonderful about this dish, is that your children can enjoy them too! Make them together and have a great snack ;-)
>>Another Korean invention is this Croque Madame Croffle! I've upgraded the Croffle and gave it a French twist! Perfect for breakfast or luxurious lunch.
Tteokkochi w/ Chicken Sausage & Spring Onion
Prep: 10 min

Total: 20 min
---
Meat
Vegetables
Ingredients
NOTE: this recipe makes 4 sausage and 2 spring onion Tteokkochi and is perfect for one person.
- 18 rice sticks (blanched and tossed in some sesame oil, bought at Amazing Oriental)
- 8 party (vegan) sausages
- 1 spring onion cut into 3 pieces and then in half (makes 6 pieces)
- 6 wooden sticks
- 2 tbsp oil for frying
- pan

For the sauce:
- 1 tbsp Gochujang (fermented Korean chili paste, bought at Amazing Oriental. Leave out if making for children and replace with ketchup / sweet chili sauce, )
- 2 tbsp sweet chili sauce or  ketchup + 1 tbsp honey  (if vegan, replace honey with maple syrup)
- 1 tsp sesame oil
- ½ tbsp soy sauce (I used low sodium) or tamari
- ½ tsp garlic powder
- salt & pepper to taste
Instructions
Blanch the rice sticks in boiling water for a few minutes. Then toss them through some sesame oil to prevent them from sticking. When you can pick them up, string them on a skewer, alternating between sausage or spring onion.


Put all the ingredients of the sauce in a bowl and mix well.

NOTE: if you're making this for children, leave out the Gochujang (unless your kid is used to spicy food) and replace with sweet chili sauce or ketchup.
Add oil to a pan and fry the Tteokkochi on medium heat until the outside is crispy, and the inside is soft (about 2-4 minutes each side).


With a brush or spoon coat the fried rice cake/sticks with the sauce and enjoy!

TIPS:
- Use vegan ingredients such as tamari, maple syrup and sausages / crunchy veggies (steamed broccoli, carrots, zucchini) to make this meal completely vegan.
- Use seafood or other meats.

If you make my recipes, please tag me in them and use #thespicedchickpearecipes. I'd love to see what you've made!