Tostadas w/ Mackerel Mousse
Tostada is the Spanish word for "toasted" and often comes in the form of a fried tortilla, spread with a layer of refried beans and topped with vegetables and other ingredients. My take on this Mexican street food snack is slightly different. I'll be using canned mackerel, smashed avocado and pickled red onion. Not your authentic tostada, but still very tasty and flavourful!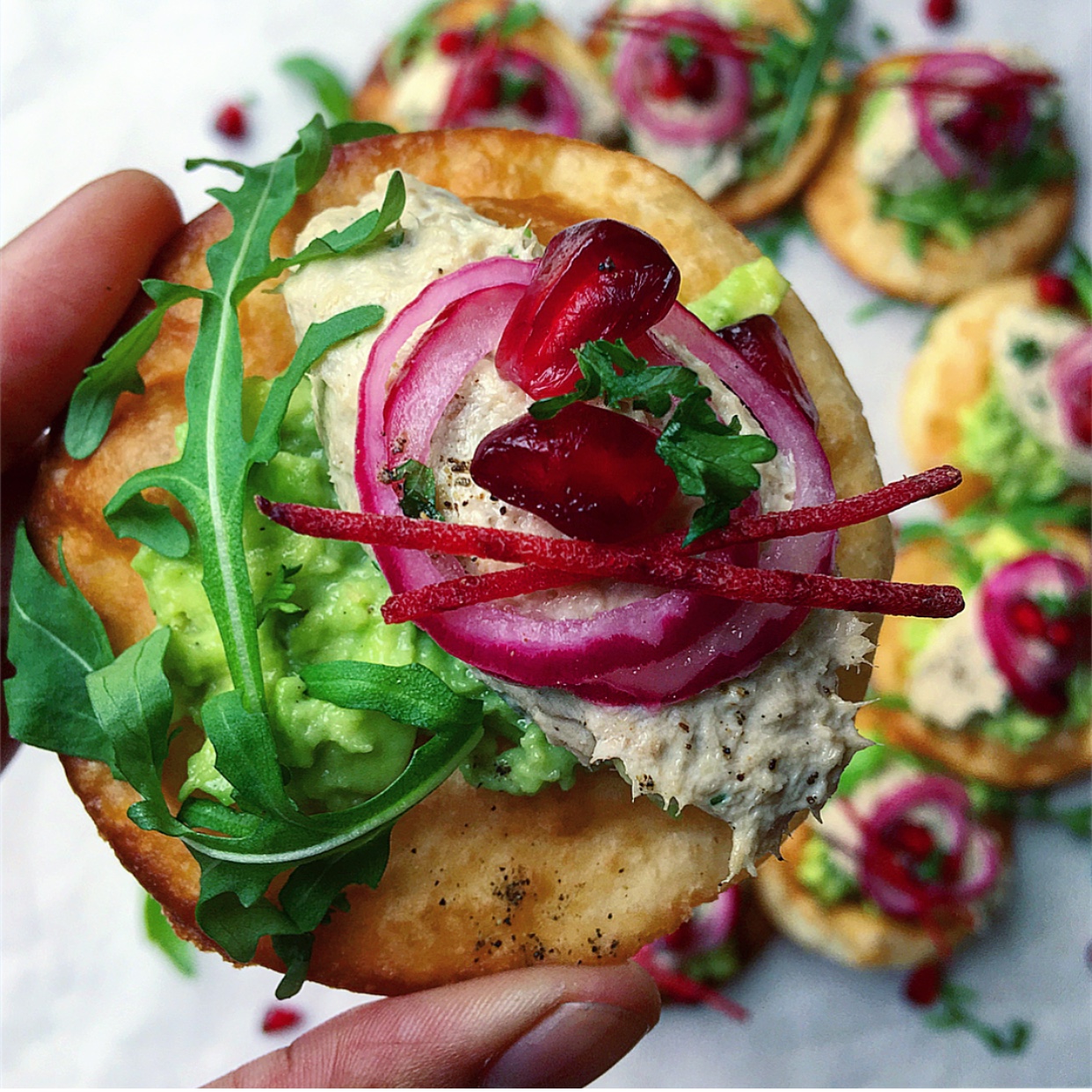 Tostadas w/ Mackerel Mousse
Prep: 10 min

Total: 25 min
---
Fish
Ingredients
NOTE: This recipe is good for 10-12 tostadas

For the mackerel mousse:
- 2 cans of canned Mackerel (I've used Princes Foods)
- 100 gr of mascarpone
- 1 ½ or 2 tbsp of mayonnaise
- about 2 tbsp of lemon juice
- 1 tbsp of parsley (roughly chopped)
- ¼ tsp capers
- ½ tsp garlic powder
- salt & pepper to taste
- Food processor

For the tostadas:
- a few corn or natural tortilla sheets (cut out rounds with a cutter)
- sunflower oil for frying

For the smashed avocado:
- 1 big or 2 small ripe avocados
- squeeze of lemon juice
- salt & pepper to taste
TIP: you can also add a chopped red onion, tomatoes and coriander and make a quick guacamole. 

For the garnish:
- pickled red onion (slice one red onion and add this to a bowl with 2 tbsp of white vinegar, ⅛ tsp salt, ¼ tsp sugar. Let this sit until the vinegar becomes pinkish and the onions soft)
- pomegranate seeds
- rocket leaves
- parsley
- black pepper
Instructions
Finely slice the red onion and let it brine in the vinegar solution. Set this aside.


Then prepare your mackerel mousse by placing all the ingredients in the food processor. Mix it a few times until it becomes a paste. Add more lemon juice if you like it tangy. If you want it creamier add more mascarpone or mayonnaise. Season with salt & pepper. Store the mackerel mousse in the fridge.


Use a round cookie cutter or a glass to cut rounds out of the tortilla sheets. For this recipe I've used corn tortilla sheets because I find them a bit tastier than the regular ones. After you have cut out a few rounds, fry in medium hot oil until they are golden brown. Transfer on some kitchen towel paper.


In the meantime, whip up some smashed avocado and prepare your mise-en-place by deseeding the pomegranate, washing the rocket leaves and cutting some parsley.


When the tostadas (fried tortilla sheets) are cooled off assemble the tostadas. Spread out the smashed avocado, then mackerel mousse and finish with pickled red onion, rocket leaves, pomegranate seeds, parsley and black pepper. Serve immediately!

If you make my recipes please tag me in them and use #thespicedchickpearecipes. I'd love to see what you've made!