Toast 3x Ways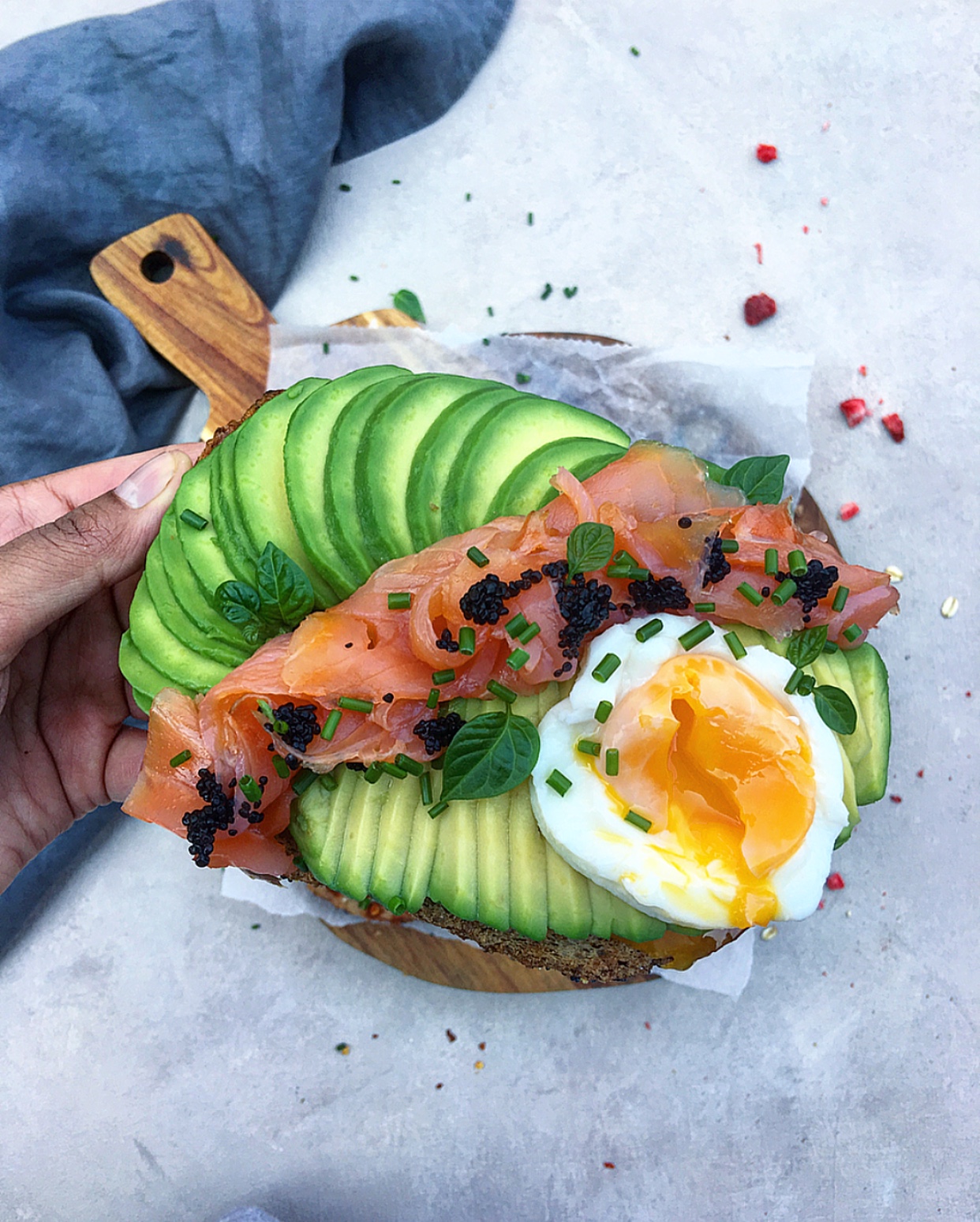 The first toast is an easy way to add avocados to your diet. However, if you want to upgrade your toast game, I would suggest to add some smoked salmon. The smoky flavour of the salmon combined with a creamy ripe avocado is a perfect combination to mellow out the saltiness of the fish. I've also added some seaweed pearls from Ikea. They are vegan, look a lot like caviar and add an extra decadent touch. To make this toast even more indulgent, I've added a poached egg. If poaching eggs isn't your thing, you can easily substitute it for a soft or hard-boiled egg.
The second toast is a sweet toast with some vanilla infused Greek yoghurt and apricots. I added a fruity topping, because I simply had some apricots left and I like the combination of yoghurt and fruit. These apricots were a bit sour so I warmed them up with some organic honey which I bought from a farm near my house. For crunch, I added some toasted oats and freeze-dried strawberries. This toast tasted so much like a dessert, and is a real treat to start your day with! Maybe I should start making these on Mondays?
The third toast is another savoury one which also uses plain Greek yoghurt as a base. This time around, I've added some wilted spinach leaves that have been sautéed in some olive oil. For an extra bite, I've topped the toast with some grilled Halloumi cheese. Halloumi cheese is perfect for grilling, since it doesn't melt. Lastly, I drizzled some chilli-flavoured oil on it for that extra spicy kick and the oil just really brings out all the flavours of this toast

>> This Grilled Brie Toast w/ Garlicky Mushrooms also hits the spot in this morning. Have it for brekkie or lunch!
Prep: 20 min

Total: 35 min
---
Fish
Vegetables
Ingredients
For the Avocado and Smoked Salmon Toast
- 1 slice of brown bread (toasted in a pan, toaster or under a grill)
- 1 avocado (in slices)
- 1 poached or soft/hard-boiled egg
- 1 tsp of Black Seaweed Pearls (I go this form Ikea)
- a few slices of Smoked Salmon
- a few sprigs of chives
- black pepper to taste 
For the Warmed Apricots and Yoghurt Toast
- 1 slice of brown bread (toasted in a pan, toaster or under a grill)
- 2 or 3 tbsp of plain Greek yoghurt (I've used the Greek Yoghurt form Albert Heijn, 500 gr and mixed it with a vanilla bean)
- 4 mini apricots
- 2 tbsp of organic  honey
- 1 tbsp of water
- 1 tbsp of toasted old fashioned oats
- a few freeze dried or fresh strawberries  
For the Spinach and Grilled Halloumi Toast
- 1 slice of brown bread (toasted in a pan, toaster or under the grill)
- a big handful of spinach leaves
- 1 or 2 pieces of Halloumi cheese
- 1 tbsp of plain Greek yoghurt
- 2 tbsp + 1 tsp of olive oil
- ¼ tsp organic  honey (or more if you like a sweeter oil)
- ⅛ tsp garlic powder
- ⅛ tsp chili powder
- ⅛ tsp Pimenton (smoked pepper powder)
- a pinch of chili flakes (optional)
Instructions
Avocado and Smoked Salmon Toast
Poach or boil an egg. Then cut your avocado into thin slices. Assemble your toast by layering it with slices of avocado, pieces of smoked salmon, a few black seaweed pearls, your poached or boiled egg, black pepper and garnish with some chopped chives.
Warmed Apricots and Vanilla Yoghurt Toast
Prepare your vanilla yoghurt first. Cut open the vanilla bean and scrape the vanilla out. Add to your yoghurt and mix well. Let the vanilla infused yoghurt chill in the fridge. Remove the seed pits from the apricots and cut it into halves or quarters. Place them in a pan with the water and honey and let them warm through until the liquid becomes bubbly and thicker. This takes about 2 or 3 minutes on medium heat. In another pan, toss the oats until they are golden brown. Crush the strawberries into smaller pieces. Assemble your toast by layering with the vanilla yoghurt, warmed apricots, crushed freeze-dried strawberries, toasted oats and an extra drizzle of honey.
Spinach and Grilled Halloumi Toast
Prepare your flavoured oil first by adding the honey, chilli powder, garlic powder, Pimenton and chili flakes (optional) to your 2 tbsp of olive oil. Then heat a skillet and add 1 tsp of olive oil. Sauté the spinach until it's completely wilted but holds its colour and texture. Remove the spinach from the pan and let it cool. Slice the Halloumi into slabs that are 1 cm thick and grill these in a griddle pan (if you don't have one you can also pan-fry them) on a medium to high heat. Grill the slices for about 2/3 minutes on each side, until the cheese is lightly browned. It should be warm and soft through the middle. Layer your toast with plain Greek yoghurt, the wilted spinach, a few Halloumi pieces and drizzle it with the chilli-flavoured oil. Halloumi cheese has the most flavour when it's still warm, so you should quickly assemble this toast and dig in!
If you make my recipes please tag me in them and use #thespicedchickpearecipes. I'd love to see what you've made!