Spiced Asian (Mini) Chicken Sausages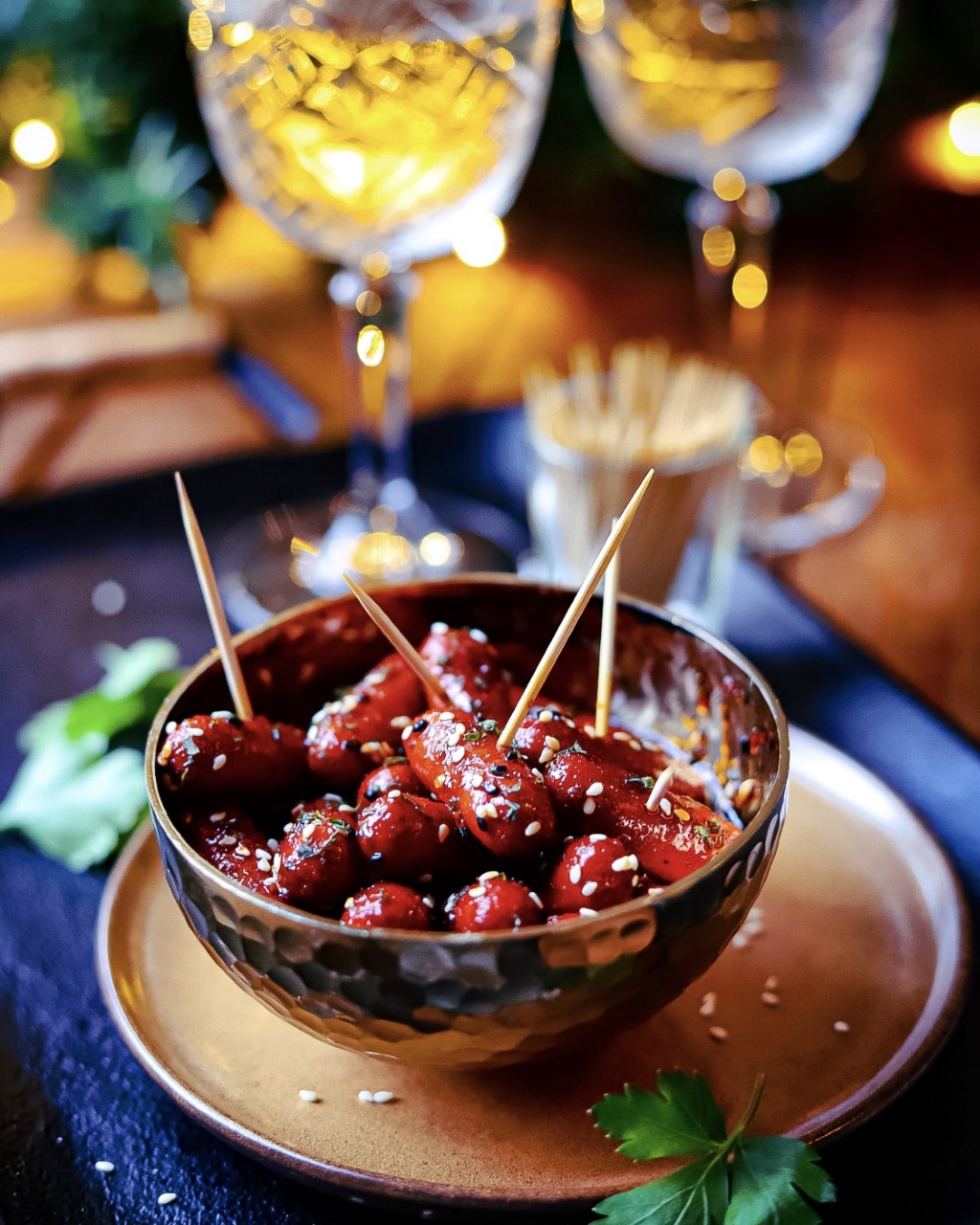 Spiced Asian (Mini) Chicken Sausages
Prep: 5 min

Total: 10 min
---
Meat
Ingredients
- 1 can of chicken sausages, drained (I used Mister King, halal sausages, but "Knaks" is also good or a vegan/vegan variant)
- 3 tbsp honey (or vegan agave syrup/maple syrup)
- 2 tbsp soy sauce
- 2 tbsp olive oil
- 1 tbsp sesame oil
- 1 tsp garlic powder
- 1 tsp onion powder
- 1 tsp Pimenton (smoked paprika)
- ¼ tsp chili flakes (optional)
For garnish (optional):
- toasted sesame seeds (white and black)
- fresh chopped coriander/parsley
- extra chili flakes
Instructions
Add the honey, soy sauce, olive oil, sesame oil, Pimenton, garlic and onion powder to a bowl and mix well.


Heat a pan and fry the sausages over medium heat with 3 tablespoons of water. When the water has almost evaporated, pour in the sauce.


Mix the sausages with the sauce over medium heat until the sauce thickens and starts bubbling (the sauce should reduce by two third). After a few minutes, turn off the heat and put the sausages in a bowl.

Note: to prevent the sauce from burning, keep an eye on it and stir well.


For garnish, sprinkle some toasted sesame seeds, chopped parsley/cilantro and chilli flakes (optional) over the sausages. Serve immediately and enjoy!

TIP:
- This sauce is also delicious over fried chicken wings, a piece of meat or with noodles/rice.
- Make this snack the night before and heat it up in a pan or microwave.

If you make my recipes please tag me in them and use #thespicedchickpearecipes. I'd love to see what you've made.