Pasta alla Norma (Pasta w/ Eggplant)
This Pasta alla Norma is comfort food at its best! The rich sauce, meaty eggplant pieces and savoury cheese makes this a dish you want to get stuck in!
The trick is to salt your eggplant first. This will draw water out of the plant and when you bake, roast or grill it, the eggplant cooks quicker and gives it a meaty and rich taste. Which is perfect for when you want a meatfree day! Try it out yourself!

>>My vegan + gluten-free Gnocchi w/ Creamy Cashew Arabiata Sauce  make another great meat-free meal!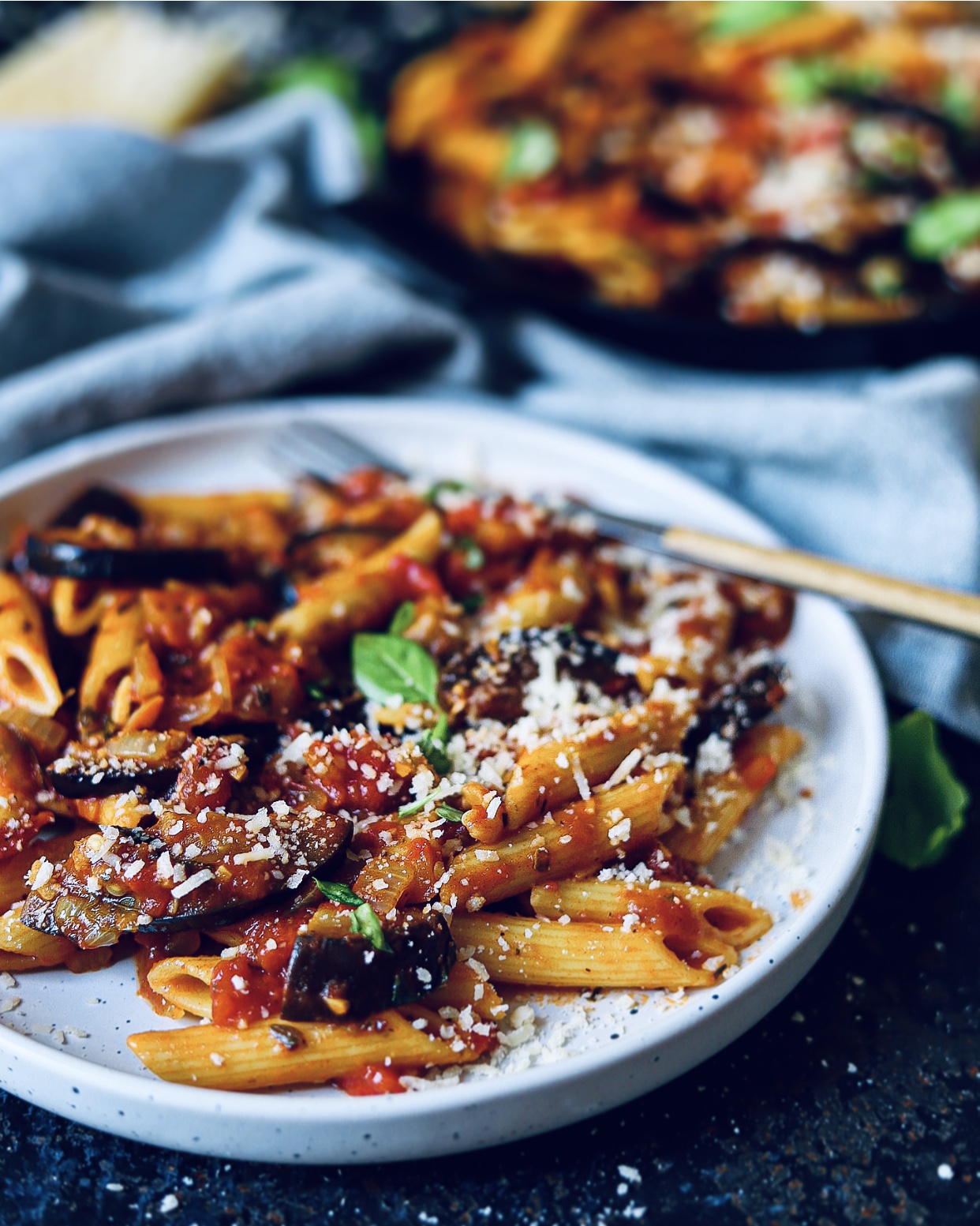 Pasta alla Norma (Pasta w/ Eggplant)
Prep: 15 min

Total: 35 min
---
Vegetables
Ingredients
NOTE: This recipe serves 3 persons. Double the quantity for more portions.
- penne pasta for 3 persons (save about 1 cup of pasta water)
- 1 medium eggplant
- 1 tsp of salt
- 400 gr of canned tomatoes (I've used the organic brand by Albert Heijn)
- 1 small white onion
- 4 garlic cloves
- 4 - 5 basil leaves
- 1 tbsp dried Italian herbs
- ½ tsp chili powder (optional)
- 1 tsp Pimenton (smoked pepper powder, optional)
- 3 tbsp olive oil
- salt & pepper to taste / a vegetable stock cube

For garnish:
- Parmesan cheese (grated, use a vegan version if you want to veganize this dish)
- fresh parsley/basil leaves
Instructions
1. Cut the eggplant in triangles (cut the eggplant in half, cut those parts into halves as well and slice them into ½ cm pieces thick). Sprinkle the salt over the eggplant. Let this sit for 15 minutes. Rinse the eggplant and then squeeze out the excess water. Set this aside.

2. In the meantime, finely chop your onion, garlic and basil leaves.

3. Add olive oil to a deep pan and cook your onions until they become translucent. Add the eggplant, garlic, dried Italian herbs, chili powder and some salt & pepper (check the seasoning at the end). Let this cook for 5 minutes on medium heat and stir well.

4. Then add your canned tomatoes, chopped basil leaves and toss well. Add about 1/2 cup of pasta water. Then cover the pan with a lid and let the sauce cook for 10 minutes on a low heat.
After 10 minutes, add your pasta, sprinkle some parmesan cheese and fresh parsley. Serve immediately and enjoy!

If you make my recipes please tag me in them and use #thespicedchickpearecipes. I'd love to see what you've made!