Oven-Baked Salmon Meatballs
The idea for these oven-baked salmon meatballs came when I received the final box of the Princess Food Challenge. Theme: an Italian meal. The box contained many Italian items and of course the canned goods such as tuna, anchovies and salmon. I had already worked a lot with canned tuna and anchovies in the previous challenges, so I decided to create a recipe with canned salmon this time around. 

I love using fresh salmon, but canned salmon is a "different" fish to work with. Fresh salmon doesn't need a lot of seasoning, whereas canned salmon tastes (in my opinion) better with seasoning. The texture is also less moist than fresh salmon, so canned salmon needs that extra bit of loving which can be provided by adding an egg to the mixture and by smothering it in some kind of sauce (tomato or bechamel sauce or even mayonnaise/cream cheese will do).
Now, back to the idea for this recipe. I wanted to create something that resembled the classic Italian meatballs and spaghetti but would also be healthy and not drenched in tomato sauce. I figured that salmon meatballs would actually match best with one of my favourite pasta dishes: Pesto Pasta. The Pesto Sauce gives the salmon balls more depth and flavour.

>> Check out my homemade creamy Pesto for 1 or 2 person.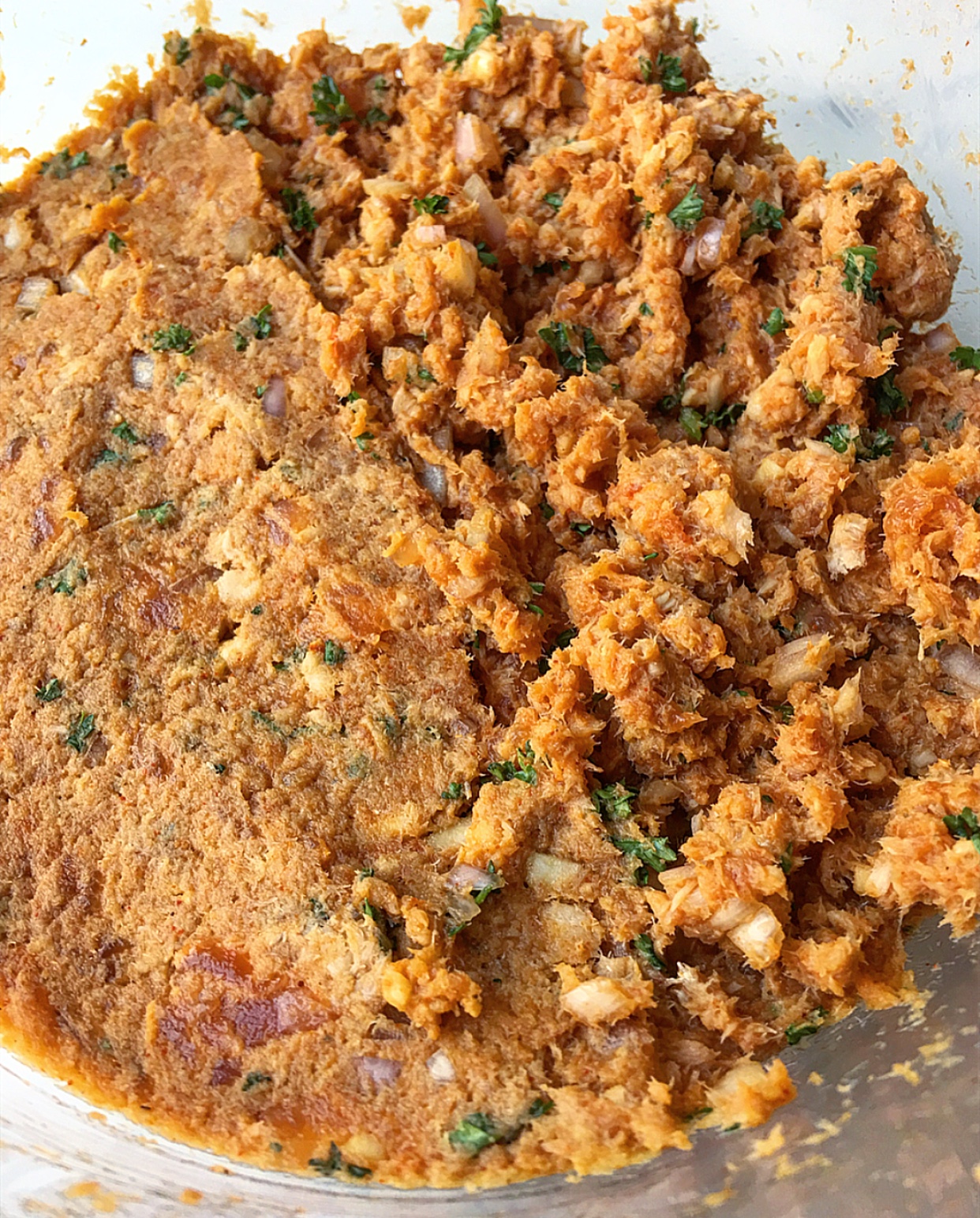 These salmon meatballs are firm, well-seasoned and together with the pesto pasta they make a perfect combo. But these tasty canned salmon creations are also perfect as a killer finger food snack to serve to your guests. They are delicious, easy to make and low budget. I hope you will try them out!
Oven-Baked Salmon Meatballs
Prep: 10 min

Total: 35 min
---
Fish
Ingredients
NOTE: One person recipe. Double the pasta quantities for more portions. I made 25 mini salmon meatballs with one can of salmon. You can also make big ones if you prefer.
For the pesto pasta:
- your favourite pasta (cooked)
- 2 tbsp of pesto sauce
For the Salmon Meatballs:
- 400 gr of canned salmon
- 3 tbsp of smoked salmon (chopped)
- 1 banana shaped shallot or small white onion (chopped finely)
- 1 garlic clove (minced)
- ½ tsp Pimenton (smoked pepper powder)
- ½ tsp chili powder (optional)
- 1 ½ tsp tomato puree
- 1 tsp chicken seasoning
- 2 tbsp fresh parsley (chopped finely)
- 1 or 2 eggs (depends on the size of the egg)
- 3 tbsp breadcrumbs
- 1 tbsp of olive oil for glazing
- salt & pepper to taste
Instructions
Preheat your oven to 175 C or 350 F. Line a baking tray with a baking sheet and set this aside. 


Remove the salmon from the can. Clean it by removing the skin and bones. Then put all the ingredients for the salmon meatballs in a bowl and mix well. Coat your hands with a bit of oil and make firm meatballs. Place them on a baking sheet and brush them lightly with some oil. Bake the salmon meatballs for 10-15 minutes (depending on how hot your oven is) and turn them half way. 

NOTE: whisk the eggs and add 1 1/2 egg first. If the mixture still looks a bit dry add the remainder of the egg. You should be able to spread out the batter (see photo above).

OPTIONAL: after 10 min baking time, I made a mixture of 1 tbsp of olive oil, ½ tsp Pimenton and 1 tbsp of tomato paste and gave the salmon meatballs a rub. They will look more like actual meatballs now. Pop them in the oven for an extra 2 minutes.


In the meantime (final 8-10 minutes of baking time), cook your pasta and toss the cooked pasta with a little bit of hot pasta water in your pesto sauce. The sauce will become creamier.


Add the baked salmon meatballs to your pesto pasta and enjoy! 

TIP: you can also enjoy these salmon meatballs on a sandwich/sub with a salad and a tangy ravigotte sauce.

If you make my recipes please tag me in them and use #thespicedchickpearecipes. I'd love to see what you've made!