No-Bake Coconut & Chocolate Granola Bars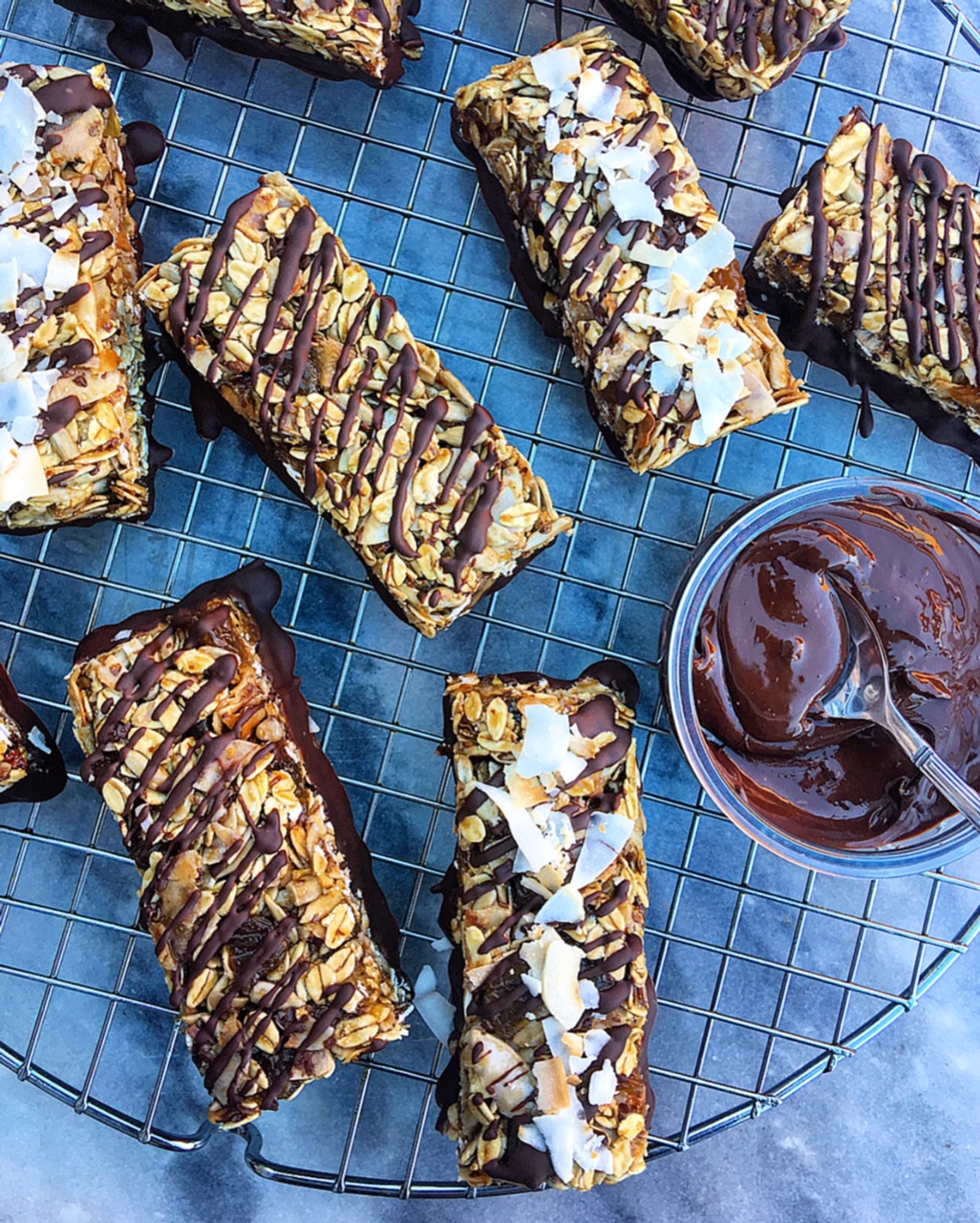 Still reading? Good! These no-bake bars are so versatile and have all my fave ingredients in them such as, coconut flakes, sunflower seeds, Medjool dates and chocolate. The sugars, syrup and essences give these goodies a Bounty Bar taste. After one bite you'll be in heaven...okay, I can't guarantee it'll give you wings but you'll want to 'bake', make and eat these a lot!
Obviously you can customize this recipe with your favourite ingredients. So do feel free to replace the sugars with natural sweeteners or chocolate with a vegan variety. Either way I'm sure you will enjoy these Coconut & Chocolate Granola Bars!
No-Bake Coconut & Chocolate Granola Bars
Prep: 15 min

Total: 3 hours for chilling
---
Vegetables
Ingredients
Note: this recipe makes 10 bars
- 2 cups of old fashioned roller oats
- 1 cup and 2 tbsp of unsweetened coconut flakes (break them up a little)
- 1 cup of sunflower seeds
- ¼ cup oat bran (Dutch: haverzemelen)
- 30 ml of coconut oil
- ¾ cup chopped Medjool dates
- ¾ cup raisins (I've used the yellow ones and if they are large chop them up)
- ½ cup of caramel syrup (I've used the van Gilse brand) but any kind of syrup/honey will do
- ¼ cup brown sugar
- 1 tsp of salt
- 1 tsp of vanilla essence
- 1 tsp of coconut essence
- 50 gr of dark chocolate (use a vegan chocolate if you're vegan)
- 50 gr of milk chocolate (if you prefer just dark or just milk you can do 100 gr, but I like to mix my dark and milk chocolate)
- 23 cm or a 9/10 inch square cake tin
Instructions
Mix the dry ingredients: oats, sunflower seeds, coconut shavings, oat bran/haverzemelen together and toast these in a hot oven on 170 C for 10 min. Stir the mixture halfway. Please note that the coconut shavings tend to brown faster so keep them under a layer of oats.


When the dry ingredients are roasted, put them in a bowl and let them cool off a bit. Place the sugar, caramel syrup and coconut oil in a pan and cook this on medium to low heat until the sugar is dissolved. Remove the pan from the heat and stir in the Medjool dates, raisins and add the vanilla and coconut essence. Stir this mixture with the dry ingredients until everything is incorporated.


Transfer this mixture to a square cake pan and let this sit in the fridge for 30 min. After 30 min cut the desired shape (I chose to go for the traditional rectangular shape). I find it easier to pre-cut the bars because when the sugars and butter are solid it's hard to 'mold' them again.


When you're satisfied with the shape, leave the bars in the fridge for a couple of hours until they are completely set. I left mine in the fridge overnight.


You can eat the bars like this or dip them in chocolate and even drizzle it on them as well. They definitely look prettier like this, but if you don't like chocolate or want a fuss-free bar you can keep them au natural.

TIP: You can store these bars in a airtight container and they stay well in the fridge for 2 weeks.

If you make my recipes please tag me in them and use #thespicedchickpearecipes. I'd love to see what you've made!