Hoisin Pulled Chicken w/ Bao Buns
Baos (steamed buns) were originally a breakfast dish, but are now a popular on-the-go street food - often so good, that you just keep on eating them. So, I want to share my love affair for these steamy hot buns and their saucy stuffings. Because, what makes a bao so dang good, that it has become a global
phenomenon?
First of all, there are different kinds of baos. The pillowy-soft buns are brimming with a variety of tasty aromatic meats or vegetarian stuffings. One such famous "bun", filled with barbequed pork is the Char Siu Bao. Unfortunately, due to allergies I've not had the pleasure to try this bao, so I've learned to stuff my bao with a chicken filling.
It was when chef David Chang of Momofuku restaurant introduced his 'Ssam', that I discovered the open-faced bao. But unlike the enclosed bao, this Taiwanese dish (Gua Bao), is served folded and stuffed with fillings, a sauce and crunchy veggies. This combination of the pillowy-soft bun, paired with the marinated stuffings and toppings makes the bao so dang good.
After the amazing experience with the Gua Baos at Bao London, I had to try and create my own open-faced version at home. I chose to go with a pulled chicken style stuffing. For my recipe I wanted a marinade that was packed with flavours and one where you didn't have to cook the chicken for a long time. I also chose to go for a sweet and sticky note (this also mellows the spicy Sriracha sauce that goes with the bao). Using chicken thighs shortens the cooking time allowing the chicken stay juicy and ready to be pulled with two forks. Stuff your bao and prepare for a foodgasm of the century. 
Source inspiration: https://food.ndtv.com/food-drinks/for-the-love-of-bao-the-asian-street-food-from-cha-siu-to-gua-bao-1738307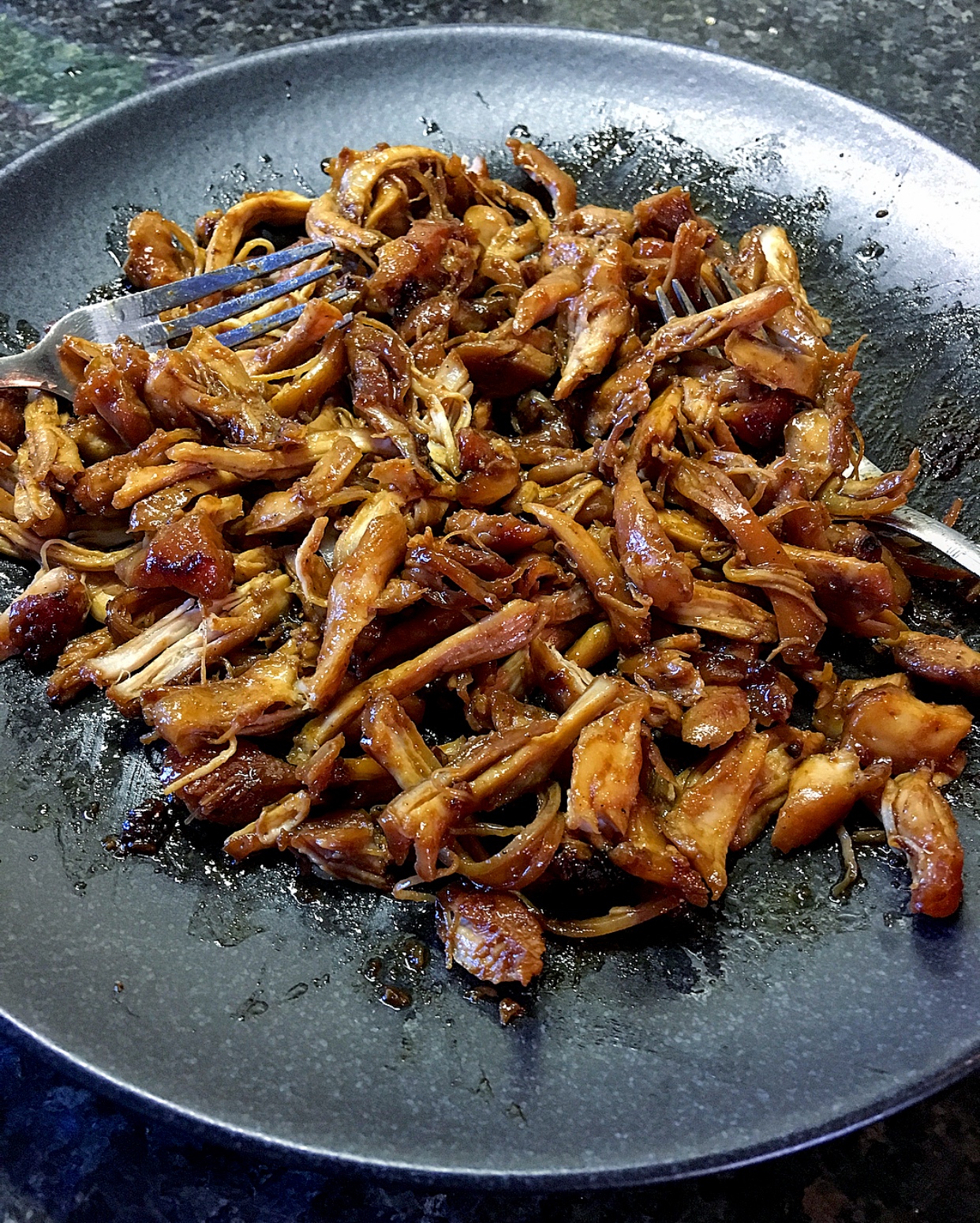 Hoisin Pulled Chicken w/ Bao Buns
Prep: 30 min

Total: 45 min
---
Meat
Ingredients
NOTE: this recipe is just enough to stuff 8 baos
For the marinade:
- 4 chicken thighs with skin
- 2 tbsp Hoisin (I've used the Lee Kum Kee brand)
- 1 ½  tbsp light soy sauce
- 1 tbsp sugar/honey
- ½ tsp Pimenton
- ½ tsp sesame oil
- ½ tsp Chinese five spice powder
- 1 smashed garlic clove
- 1 tbsp of peanut/sunflower oil
- ¼ tsp salt and pepper
- extra peanut/sunflower oil for cooking
- 8 store-bought bao buns (I got mine from the Amazing Oriental)

For the Shriracha mayo 
- 4 tbsp Hellmanns mayonnaise
- 2 tbsp Sriracha
Veggies and garnish:
- half a cucumber in slices
- 2 carrots, grated
- 3 or 4 radishes in slices 
- 1 red chili pepper in slices (optional)
- fresh coriander leaves (optional)
- 3 or 4 tbsp crushed peanuts
- white sesame seeds (toasted)
Instructions
Prepare the marinade by combining all the ingredients and marinate the chicken thighs. Put the marinated chicken in the fridge and let this sit for an hour or overnight. 


Prepare your Sriracha mayo sauce and cut the garnish.


Add 1 tbsp of oil in a pan and cook the marinated chicken on medium heat. After about 4 minutes the sauce will caramelize and lightly stick to the chicken. After a another minute lower the heat and place the lid on the pan. Let the chicken cook covered for 5 minutes. After the 5 minutes remove the lid. Turn the heat up and let the chicken brown on both sides. The whole cooking process will take about 15-20 minuted depending on the size and thickness of the thighs.

TIP: after 15-20 minutes remove the chicken from the pan and place it in some aluminium foil. Cover it and let it sit for 5 min before your shred it with two forks (you can also do this with your hands). There will be some marinade and oil left in the pan. DO NOT THROW THIS AWAY! Fish out the marinade and leave the oil. Rub the shredded chicken with the leftover marinade. This will give extra flavour to the meat.


In the meantime steam your bao buns according the package instructions, and place your garnish and sauce on a table.


Assemble your bao bun by starting with a smear Sriracha mayo, a few slices of cucumber, some shredded chicken, slices of radishes, peanuts and end with some coriander leaves (optional). 

TIPS:
- You can also use the marinade for a roasted chicken, or just serve the chicken thighs with some rice and veggies.
- If you want to have an easy lunch you can put the shredded chicken with all the veggies in a wrap in a tortilla.

If you make my recipes please tag me in them and use #thespicedchickpearecipes. I'd love to see what you've made!