Coconut & Pandan Brigadeiro – Taste of Malaysia 2020
Brigadeiro ft. Pandan
Brigadeiro's are Brazilian sweets that are made from Condensed milk and chocolate. They are super easy and fun to make and in these times it's even more exciting to experiment with flavours!

This is where my newfound love: Pandan leaves come into the picture! Because ever since I attended the online event: 'Malaysian Food and Fruits Week'. I got to understand the 'Taste of Malaysia' better. The Malaysian fruits and cuisine in Europe are highly in demand - especially on the European market - and are also much sought after amongst the oriental and Asian markets in the Netherlands. This is how I got inspired to use Pandan leaves in my recipe!

Also, through the cooking demo's provided by these events and talking to award winning Chef Norman Musa (@chefnormanmusa), - who by the way has written an amazing cookbook on Malay food 'Amazing Malaysian' – I myself am incorporating more South-Asian flavours into my dishes and I'm loving it!
What is Pandan?
Now back to this long and slender fragrant leaf! Because Pandan leaves look similar to the palm, has a unique and sweet aroma and an emerald green colour when pulvirized into an extract. It's often sold as a paste, extract or powder and incorporated in Malay and other South/East-Asian dishes. You can find the Pandan extract in many Asian stores or get them online via orientalwebshop.nl. It's as easy as it gets guys!

I recently incorporated Pandan extract in my fusion style Brigadeiro which was inspired by Chef Norman Musa's 'Onde Onde Buah Melaka' (Sweetened Sticky Rice Balls) from his book 'Amazing Malaysian'. It was a match made in heaven and I hope you'll also enjoy and taste the flavours of Malaysia in this recipe. Also, if you happen to be around an Asian supermarket get inspired yourself there are so many delicious exotic fruits and vegetables there not to mention the herbs and spices - I abolutely can't live without these stores ;-) 

Source: thespruceeats.com
Thank you word
Special thanks to the Ministry of Agriculture and Food Industries Malaysia (supported by the Embassy of Malaysia in The Hague, Tourism Malaysia and Malaysia External Trade Development Corporation (MATRADE) for giving me this opportunity to support their objective in promoting The Taste of Malaysia.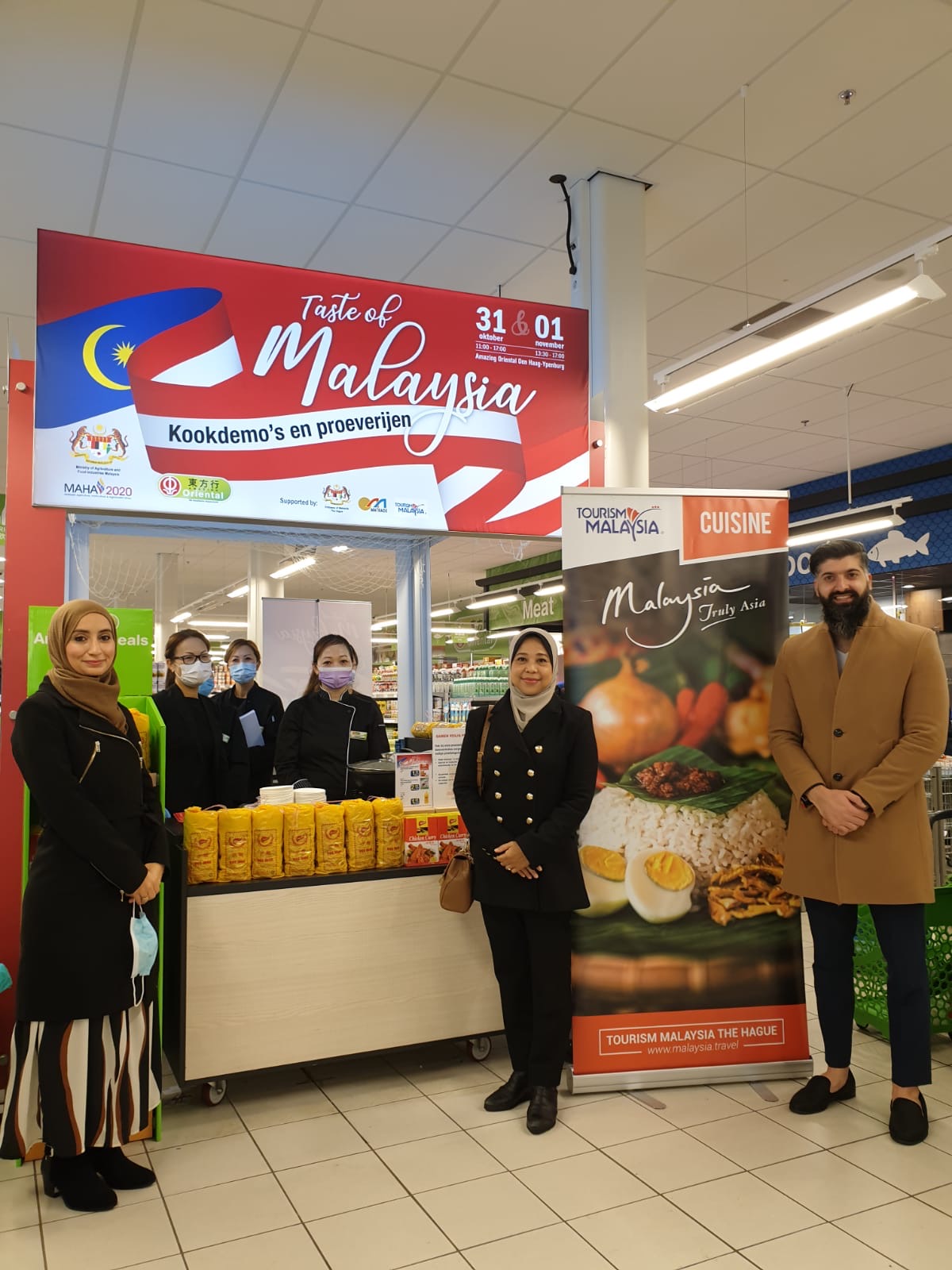 Note: The Spiced Chickpea teamed up with Tourism Malaysia for this sponsored article.
Coconut & Pandan Brigadeiro – Taste of Malaysia 2020
Prep: 15 min + setting overnight

Total: 30 min
---
Vegetables
Ingredients
NOTE: this recipe is good for 10-15 Pandan and Coconut Brigadeiro's

- 415 ml condensed milk (you can also use one with coconut flavour)
- 1 tbsp unsalted butter
- 2⁄3 cup white chocolate (use good quality)
- ¼ tsp Pandan extract (I've used Jola, Amazing Oriental)
- ¼ tsp coconut extract + a drop of vanilla extract (I've used Jola, Amazing Oriental)
- 3 tbsp grated coconut
- 200 gr grated coconut (for coating the Brigadeiro's)
Instructions
Grease two shallow bowls/plates with some butter and them aside


Place a non-stick pan on medium heat and melt the butter and white chocolate. Add the condensed milk and reduce the heat to medium-low. Stir well until the mixture thickens.


After 10-15 minutes (while stirring constantly) pour the mixtures into two greased bowls/plates. In one half add ½ tsp Pandan extract and in the other half add ¼ tsp coconut extract + a drop of vanilla extract and 3 tbsp grated coconut. Cover the mixtures with cling film and let them cool down in the fridge. I let them set overnight.


The next day, grease your hands with butter and scoop the mixtures out with a teaspoon. Roll them it into balls and coat them with the grated coconut.

TIPS:
- Add foodcolouring for an intense green colour.
- Use nuts, sesame seeds or even finely chopped dried fruit to coat the Brigadeiro. The sky is the limit with these!
- Make a chocolate Brigadeiro and swap the white chocolate for an intense dark chocolate flavour!

If you make my recipes please tag me in them and use #thespicedchickpearecipes. I'd love to see what you've made.