Bulgur w/ Tomato, Chickpeas & Feta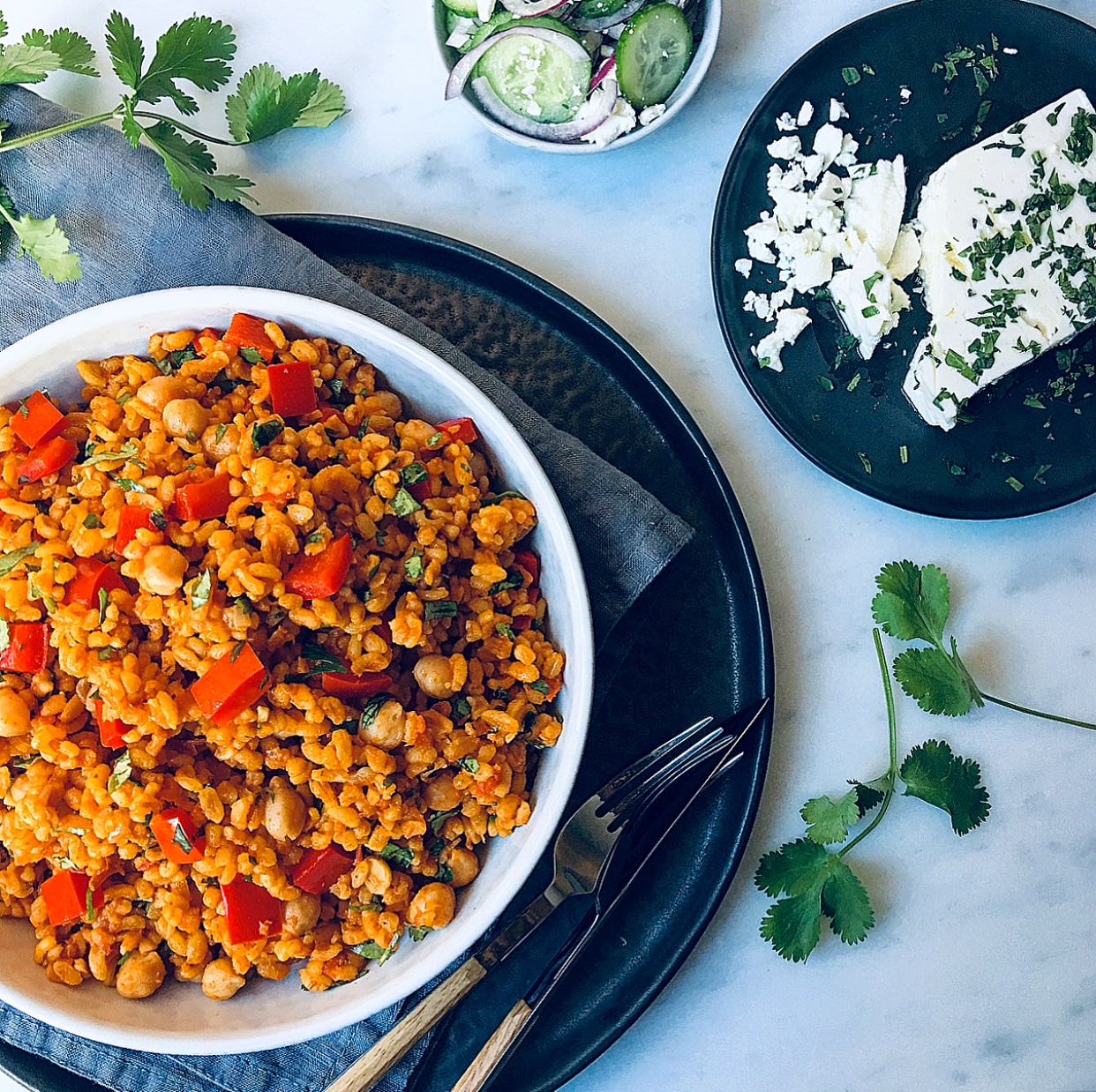 Bulgur is made from dried cracked wheat (durum wheat) which is partially cooked so that it can be prepared really quickly. I cook my Bulgur just how I cook my rice but add stock instead of water. In my recipe I'm using tomatoes and tomato paste as a flavour and colour enhancer. My Bulgur is also packed with warm spices which were inspired by Middle Eastern flavours and since this wheat orginally comes from there, I felt like I should do some justice to it.

Below you'll find a range of photos and a description on how I cooked my Bulgur. I hope you enjoy this recipe too!
Bulgur w/ Tomato, Chickpeas & Feta
Prep: 10 min

Total: 25 min
---
Vegetables
Ingredients
NOTE: this recipe serves two persons or one greedy person.
- 1 cup bulgur
- 2 cups low sodium chicken stock (use vegetable stock if you want to keep this vegan/vegetarian)
- 2 garlic cloves or use less if you like less garlic (minced)
- 1 banana shallot/small white onion (finely chopped)
- 1 tomato (deseeded and in chopped into cubes)
- 1 tbsp tomato paste
- ½ tsp Pimenton (smoked pepper powder)
- ½ chili powder (use less if you like it less spicy)
- ¼ tsp cumin powder
- ¼ tsp cinnamon powder
- a few strands of Saffron (optional)
- 3 tbsp of olive oil
- ½ cup red bell pepper (chopped in cubes)
- ½ cup of canned chickpeas
- salt & pepper to taste
For garnish:
- parsley/fresh coriander leaves
- chunks of Turkish cheese / feta cheese
Serve with:
- cucumber, olives, lettuce leaves
Instructions
In a pot add 1½ tbsp of olive oil and sweat off the onions and garlic for a few minutes before you add the tomato, tomato paste, saffron strands, chili, Pimenton, cumin and cinnamon powder. Let this cook for few minutes on a medium heat until you see the oil separate.


When the oil separates from the onion mixture add the bulgur and mix well until all the wheat is coated. Then add two cups of stock. Mix again and let this cook on a medium heat until you see big bubbles on the surface. Then reduce the heat to low and place a lid on the pan. Let it simmer for another 10-15 minutes (mix half way through the cooking time) until the bulgur is cooked through.


In a separate pan add the remaining 1 1/2 tbsp of olive oil and sauté the bell pepper and chickpeas for a few minutes. The vegetables should remain their crunch. Season with salt & pepper. 


After the cooking time, check your Bulgur again, add the vegetables and mix well. Once again check the seasoning for salt & pepper. You can also make your Bulgur more spicy by adding some fresh chili. Garnish with parsley/fresh coriander, a sprinkle of feta cheese and dollop of yoghurt.

TIP:
- Serve this Bulgur as side with some grilled meat or a vegan/vegetarian burger and a creamy garlicky yoghurt sauce.
- You can also stuff your zucchini or eggplants with this wheat.
- Replace the feta cheese for nutritional yeast.

If you make my recipes please tag me in them and use #thespicedchickpearecipes. I'd love to see what you've made!