Black Sushi w/ Smoked Salmon & Green Algae Sauce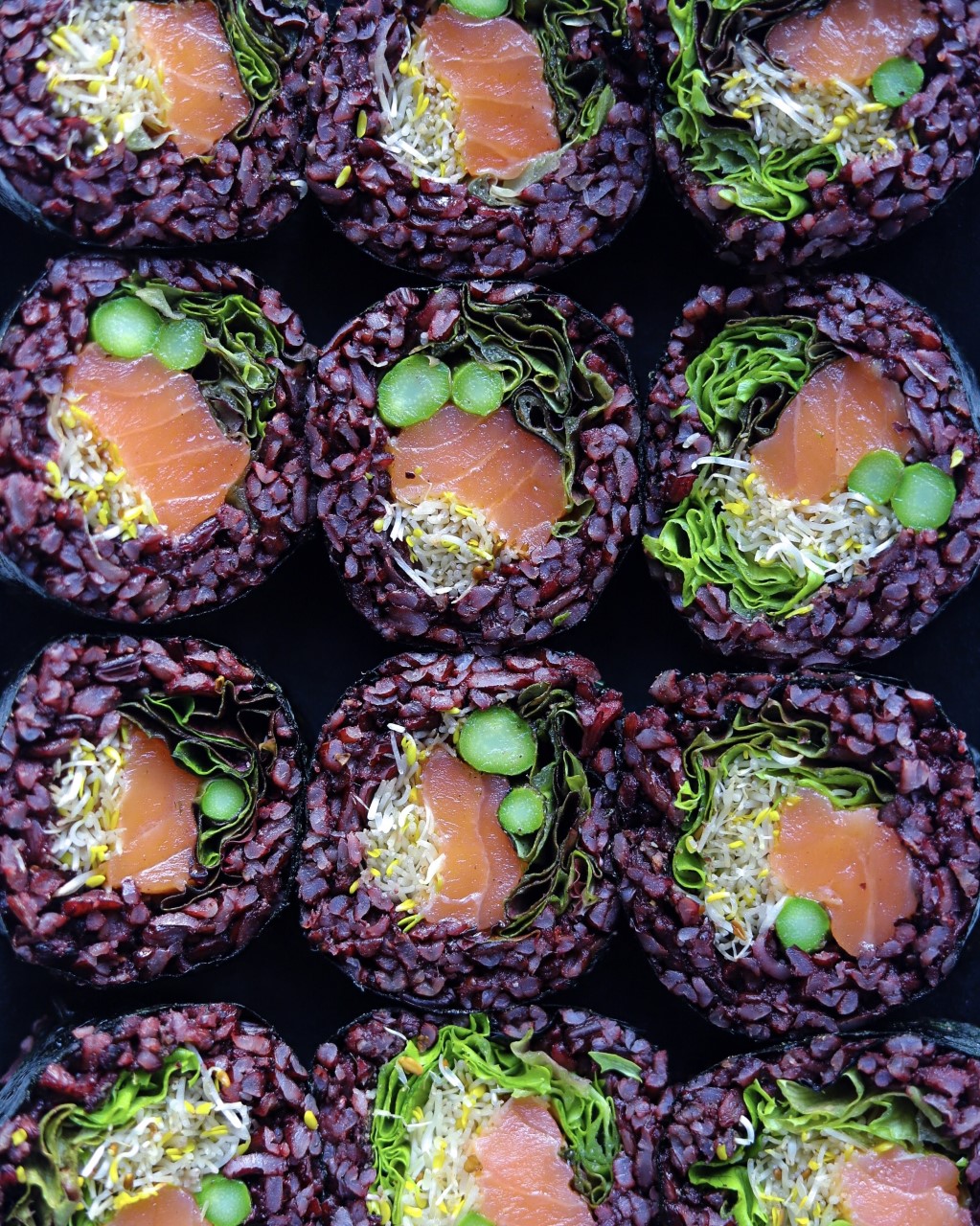 My younger brother always thinks of way to improve my dishes by getting me ingredients I've never worked with. I received a packet of black rice a few months ago, because he thought it would be a cool ingredient to work with. When I was looked up black/forbidden rice online, I noticed that this rice is also high in nutrients compared to other types of rice. It's rich in anthocyanins, which is a powerful antioxidant. It's also nutty and delicious and an excellent addition to your grain bowls.
So, when Sunday Natural reached out to me and asked me to create a healthy, tasty and nutritious meal, I knew I wanted to use this rice. They also asked to me incorporate their algae powders, I was bit hesitant at first, because I work with a lot of superfoods, but this one is mostly used in mermaid smoothie bowls or by high end chefs.

Thus, I thought hard, because I really wanted to create something that would include this highly nutritious powder as part of the dish, instead of turning it into a superfood must. Hence, I came up with this green sauce that goes well with the earthy flavors of the black sushi and where the algae powders aren't a prominent flavor but amalgamate with the other ingredients.
Note: The Spiced Chickpea teamed up with Sunday Natural for this sponsored recipe.
Black Sushi w/ Smoked Salmon & Green Algae Sauce
Prep: 45 min

Total: 1.5 hour
---
Fish
Ingredients
- 1 cup cooked black rice according to the package instructions
- smoked salmon
- lettuce leaves
- green asparagus (raw, steamed or lightly sautéed in a pan with some oil and seasoned with salt & pepper)
- micro greens (optional)

- Nori sheets (Sunday Natural)
- Sushi mat

For the sauce:
- 1 spring onion
- 1 tsp sesame oil
- 1 tsp soy sauce (Sunday Natural)
- 1 small avocado
- 1 tsp  lemon juice
- 1tsp algae powder (Sunday Natural)
- 3 tbsp water

For garnish (optional):
- edible flowers
- soy sauce (Sunday Natural)
Instructions
Cook the black rice according to the package instructions and let it cool down. I didn't season it, but you can add some rice wine vinegar and salt to taste if you like.


Prep the rest of the ingredients: wash your lettuce, cut your smoked salmon, sauté your asparagus and place them all on a plate.


While the rice is cooling down, blend all the ingredients for the sauce until it's smooth and let it cool in the fridge.


Then roll the sushi. You can check out my REEL on how I did.


I chilled my sushi in the fridge for 10 minutes to firm up before I cut it into slices and served it with the green + soy sauce.

If you make my recipes, please tag me in them and use #thespicedchickpearecipes. I'd love to see what you've made