Black Bean Garlic Chicken
By now you should know that I'm a huge fan of Chinese cuisine. I looove using Chinese spices & pastes, because they give a certain unique note to every meal. This fermented Black Bean Garlic paste from Lee Kum Kee is one of those pastes that I'm thrilled about. It's fragrant, aromatic and can be used with any kind of meat or vegetables. It really gives them a kick and it's so saucy and quick and easy to prepare.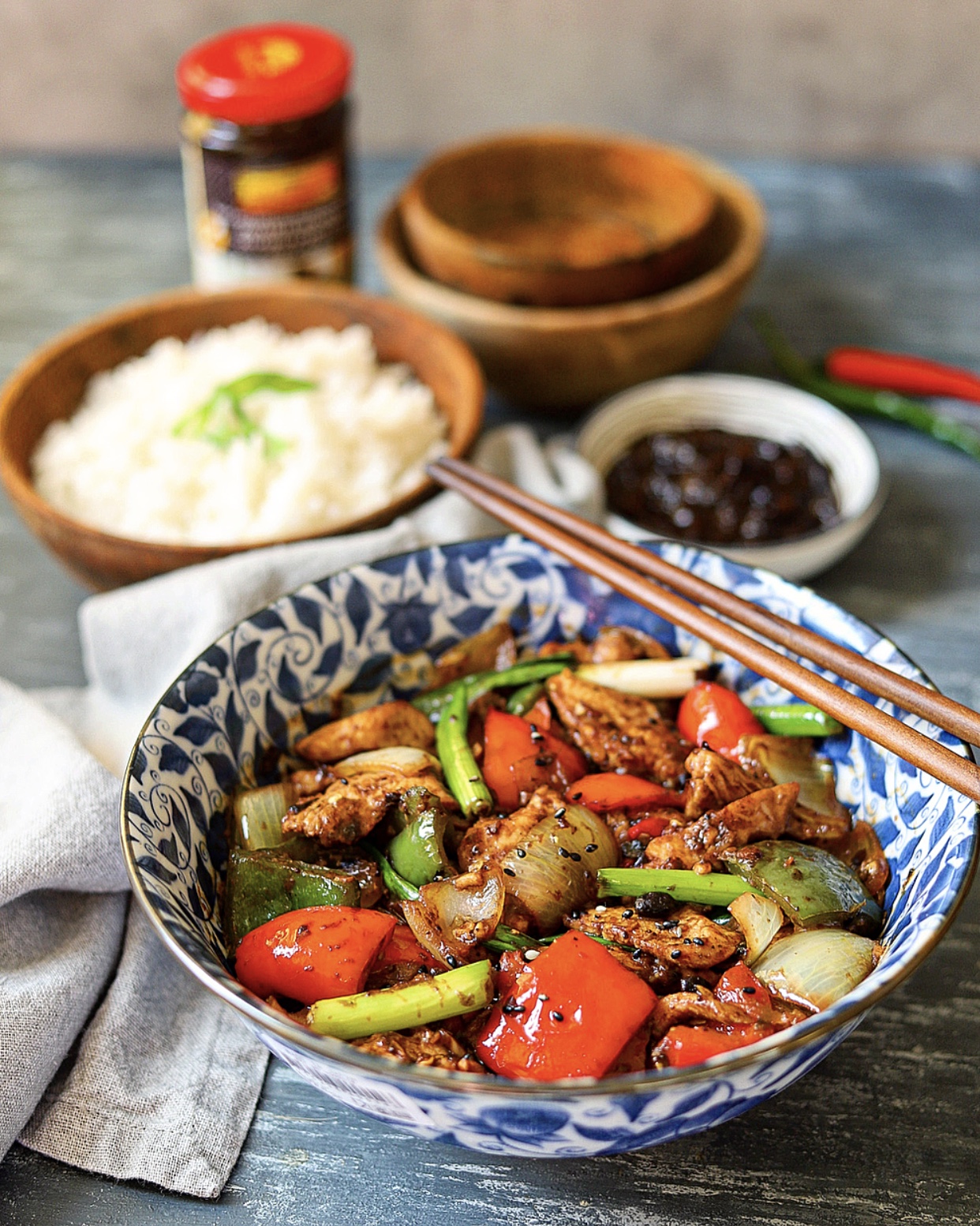 In my Black Bean Garlic dish I use chicken breasts, but feel free to use chicken thighs, beef, pork or lamb. Just make sure to thinly slice the meat first. I also added some bell peppers, because that's how I always get it served, but like most of my recipes you can play with your ingredients. So enjoy and have fun in the kitchen!
>>In need of another quick and easy stir-fry? Then this lip-smacking Mixed Mushroom Stir-Fry is another satisfying meal for you to try!
Black Bean Garlic Chicken
Prep: 10 min

Total: 25 minutes
---
Meat
Ingredients
NOTE: this recipe serves 1 greedy portion or two persons.

For the chicken:
- 1 chicken breast (washed and cut into cubes or strips) / vegan chicken / tofu
- 1 ½ tsp of cornstarch
- 1 ½ tbsp of water
- 1 ½ tsp of light soy (low sodium)
- 1 tbsp of peanut/sunflower oil
- ½ tsp sesame oil
- a pinch of black pepper

For the dish:
- the cooked chicken (see above)
- 1 small white onion (cut into squares)
- 1 tsp of grated ginger
- half of a red bell pepper (cut into squares)
- half of a green bell pepper (cut into squares)
- 2 spring onions (cut into 4 cm pieces)
- a few slices of red chili (use as little or as much as you want)
- 2 tbsp of peanut/sunflower oil
- 1 tbsp of Black Bean Garlic Sauce (I used Lee Kum Kee. This sauce already has garlic in it)
- ½ tbsp Shaoxing wine or Rice Wine Vinegar
- 1 tsp of sugar
- 1 ½ tbsp water
- the remaining of the chicken marinade

NOTE: I used a black bean paste that has garlic in it but it you use one without then add 1 or 2 garlic cloves (minced).
Instructions
In a wok pan cook the chicken in 2 tbsp oil on medium heat. Once cooked, remove the chicken and set this aside (don't throw away the chicken juices and marinade).


To the same wok pan, add the onion, peppers and ginger. Stir well and after 3 minutes add the cooked chicken. Toss and turn and after 3 minutes move the mixture to the other side of the wok pan. Then add the bean paste, water, sugar, vinegar and remaining of the chicken juices + marinade. Mix the liquids until it becomes saucy, then combine it with the onions, peppers and chicken. Stir for another 3-5 minutes, add the spring onions and turn off the heat. Serve immediately!


Serve the Black Bean Garlic Chicken over cooked / fried rice, over noodles or in a wrap. Either way enjoy!

TIP:
- Use vegan chicken or a firm tofu to veganize this dish!

If you make my recipes please tag me in them and use #thespicedchickpearecipes. I'd love to see what you've made.