Workshop toffe sloffen and food photography by 'het Baklokaal' and 'Linse Fotografie' / Workshop toffe sloffen en food fotografie door het Baklokaal en Linse Fotografie
The workshop was hosted in Manuela's most beautiful workplace: 'het Baklokaal' in Roosendaal. As a true baker's daughter, she always secretly dreamed of her own bakery and since her participation in the show 'Heel Holland Bakt', it was only a matter of strong-willed action. So, here it is!
De workshop vond plaats in de te gekke werkplaats van Manuela: het Baklokaal in Roosendaal. Als echte bakkersdochter droomde zij stiekem altijd al van haar eigen bakkerij en sinds haar deelname aan Heel Holland Bakt, was het een kwestie van realiseren en doen. En hier staat 'ie dan!
Manuela transformed her husband's old work place into an amazing space where she gives workshops to small and large groups. She works with honest and quality products and teaches you how to bake from scratch during her workshops. Tasty cakes (chipolates), tartelettes (small tarts that you just can't stop eating), classic pastries, shortbread-base cakes, cookies and of course 'Roosendalertjes'. In other words, anything you can imagine; Manuela bakes them to your heart's content, and she would love for you to join her (click HERE for offers on various workshops in 'het Baklokaal')!
And so, we did join her during this event. The foodies and I were set to work on the following menu: shortbread-base cakes. But before we move on; you just have to see this Oh-So-Delicious and mouth-watering Banoffee tartelette with Dulce de leche (a.k.a. caramel 2.0) that we got at the reception. Naturally, homemade.
In de oude werkplaats van haar man heeft zij een heerlijk plekje waar ze workshops voor kleine en grote groepen geeft. Manuela werkt met eerlijke kwaliteitsproducten en tijdens haar workshops leer je echt bakken vanaf de basis. Lekkere taarten (Chipolates), tartelettes (kleine taartjes waar je nog meer van kunt eten), klassieke gebakjes, Roosendalertjes (maar natuurlijk ;-)), koeken en toffe sloffen. Je kan het zo gek nog niet bedenken of Manuela bakt ze en dat doet ze graag met jou (check HIER het aanbod voor de cursussen in het Baklokaal)!

Tijdens dit event gingen de foodies en ik ook aan de slag. Op het menu stond: toffe sloffen, maar eerst mogen jullie even koekeloeren en watertanden naar deze GOD-DE-LIJKE Banoffee tartelette met Dulce de Leche (of te wel caramel 2.0) die we bij de ontvangst kregen. Uiteraard zelfgebakken.
Before I continue with the workshops, just a quick side note for friends who still have no idea what a shortbread-base cake actually is.

What is a shortbread-base cake?
It is a very cool looking oval shaped and elongated cake base made with butter, sugar, egg and flour (what more could you possibly want in life?). The perk? You can come up with endless variations of stuffing and toppings, for example, fill the cake-base with Frangipane (a paste of butter, sugar, egg and nuts, such as, almonds or pistachios). The paste is then baked together with the cake-base. After cooling, the cake-base is topped with pastry cream or meringue and decorated with fresh fruit to taste. And that's exactly what will make you all about that base, 'bout that base!

Voordat ik verder ga met de workshops, nog even snel voor de vrienden die nog steeds geen flauw idee hebben wat een toffe slof is.
Wat is een toffe slof?
Een hele coole ovale taartkoek met een basis bodem van boter, suiker, ei en meel (wat heb je nog meer nodig in je leven?) en waar je eindeloos mee kunt variëren. Je kan de bodem bijvoorbeeld vullen met een Frangipane (pasta van boter, suiker, ei en noten zoals, amandelen of pistachios). Dit wordt samen met de taartkoek afgebakken. Daarna wordt deze afgekoelde bodem opgespoten met banketbakkersroom of meringue en gedecoreerd met vers fruit naar smaak. Dit maakt de slof zo tof!
Manuela gave extensive instructions on how to bake the shortbread-base cake. The most useful tip I found to be: to let the butter and sugar turn slowly until you have a nice and smooth mass. That's when you can add the rest of the ingredients and the magic begins!

Manuela gaf een uitgebreide instructie bij het maken van de slof en de beste tip die ik heb onthouden, is dat de boter en suiker langzaam moeten draaien totdat je een fijne en gladde massa hebt. Daarna kun je de rest van de ingrediënten erbij doen en dan begint de magie!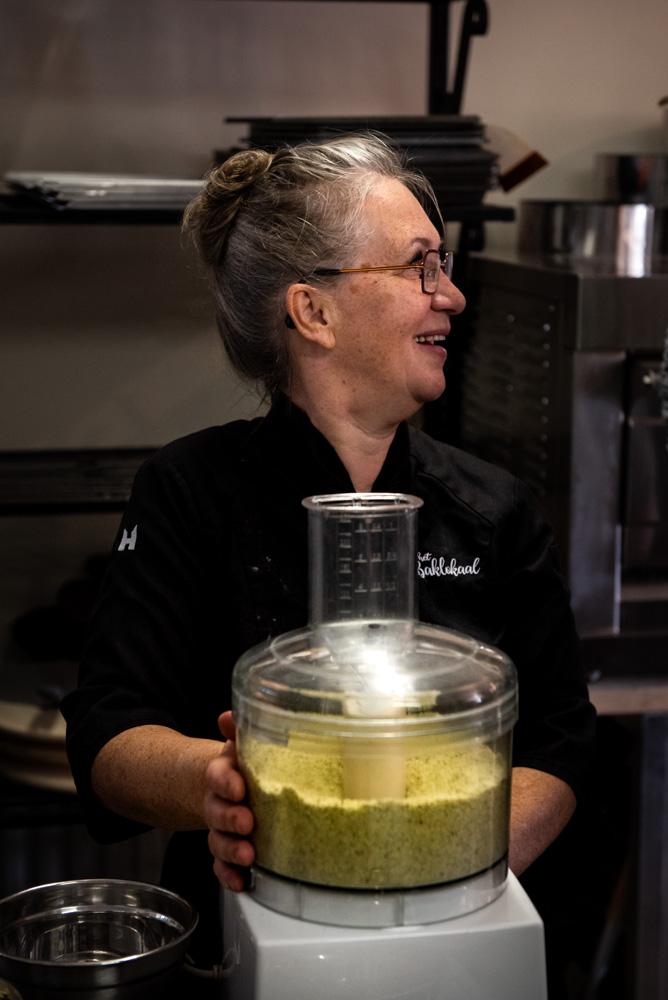 While the shortbread-base cakes with the Frangipane filling were baked in the oven, we took a little break. Manuela surprised us with a gorgeous lunch; glorious home-made sandwiches as far as the eye can see! Tommes - baker-to-be – helped her the entire day and provided the rustic look for these delicious sandwiches. You should definitely check out his Instagram account @Tommes_2004_bakt He sure knows how to bake!


Terwijl de sloffen met Frangipane vulling werden gebakken in de oven namen wij een break en verzorgde Manuela een uitgebreide lunch met OVER-HEER-LIJKE zelfgebakken broodjes! Tommes, een toekomstige bakker die je zeker in het vizier moet houden, hielp haar de hele dag een handje mee en zorgde voor de rustieke look van deze broodjes. Op zijn Instagram account @Tommes_2004_bakt, bakt 'ie wat af. Zeker de moeite waard om een kijkje naar te nemen!
After lunch, we continued working on the shortbread-base cakes. We topped them with fresh Swiss cream and decorated them with various types of berries, southern fruits and nuts. It was excruciatingly difficult not to just dive in and take a bite, because the second part of the event was introduced by food photographer Linse.
In the meantime, hop into the freezer and stiffen up you beautiful shortbread-base cakes, because Linse is about to tell us all the ins and outs on camera settings, shooting techniques and food photography. And I am all ears!
Na de lunch gingen we verder met de sloffen en spoten we er verse Zwitserse room op en versierden we ze met verschillende bessen, zuid vruchten en nootjes. Het was verschrikkelijk moeilijk om geen hapje uit de slof te nemen, want het tweede deel van het event begon met foodfotograaf Linse.

Hup de vriezer in en opstijven sloffen, want Linse gaat ons alle ins en outs vertellen over de camera en instellingen, technieken en food fotografie. En ik, ben all ears!
For those who don't know Linse van Dijk yet, take a look at her Instagram account Linse Photography; just don't go looking on an empty stomach. Linse is not only a professional food photographer, but also a foodie who knows how to make a plate of food shine like a star. She also worked in the kitchen for a while and has first hand experience in putting a lot of attention and love into creating a dish. In her words: "that love deserves to be seen". Linse strives to evoke a certain feeling with her images, "because a good food photo will increase your appetite". As a food blogger, I agree with her entirely. See below the results of my yummy shortbread-base cake, paired with tips and tricks that I applied during this shoot.
Voor wie Linse van Dijk nog niet kent, neem vooral een kijkje op haar Instagram account Linse Fotografie, maar doe dit niet met een hongerige maag. Linse is namelijk niet alleen professioneel food fotograaf maar ook een lekkerbek die wel weet hoe ze eten moeten laten shinen op de gevoelige plaat. Zelf heeft ze ook een tijdje in de keuken gewerkt en weet ze hoeveel aandacht en liefde in een gerecht gaat zitten. "Die liefde verdient het om gezien te worden". Linse streeft ernaar om met haar beelden een bepaald gevoel op te roepen, "want van een goede food foto moet je vooral trek hebben". Als food blogger ben ik het als geen ander met haar eens! Zie hieronder de resultaten van mijn toffe slof met tips en tricks die ik gebruikte tijden de shoot.
In this first photo I chose to shoot the side view, showing the beautiful cream topping and the fruit. I added some fruit in the background for decoration and to make the photo pop more colourfully.

Voor de eerste foto ging ik voor een zijaanzicht waarbij de mooie opgespoten kant te zien was. Overigens kwam het fruit aan deze kant mooi uit. Ik koos er verder zelf voor om wat fruit op de achtergrond te plaatsen voor nog meer kleur in de foto
The second photo was taken with my Canon camera. In this image you see the "anatomy" of the shortbread-base cake. A beautiful white shortbread cake base, with a very subtle layer of Frangipane, stiffened Swiss cream and the breath-taking red of summer fresh fruit.

De tweede foto is gemaakt met mijn Canon camera en daar kun je als het ware de "anatomie" van de slof zien: een mooie blanke taartkoekbodem, met een bijna onzichtbaar laagje Frangipane, opgesteven Zwitsere room en het prachtige rood van het zomerfruit.
The final photo is a professional photo made by Linse. You can see the entire shortbread-base cake and I just love the contrast with the black apron.

De laatste foto is echt een prof foto gemaakt door Linse. Hier komt de hele slof in beeld en vind ik het contrast met het zwarte schort heel mooi.

The foodies and I had learned a lot from the photography workshop and everyone got to use this newfound knowledge when taking their pictures. Do you want to see the other shortbread-base cakes? Check the #toffesloffen on Instagram!
At the end of the day we went home with an over-stuffed goodie bag! We received fantastic products from the Bakery Shop to advance our shortbread-base cake baking skills at home. Check out these small shape cutters for a mini shortbread-base cake; how cute are they? Manuela also packed some homemade granola, nougat and butterscotch. What a treat!

De foodies en ik hadden ontzettend veel geleerd van de fotografie workshop. Wil je de rest van de sloffen ook zien? Check de #toffesloffen op Instagram!
Aan het eind van de dag gingen we naar huis met een dik gevulde goodiebag! We kregen fantastische producten mee van de Bakery Shop om ons thuis verder "uit te sloffen" voor een slof familie (check de kleine vorm voor een mini slof – hoe schattig!). Manuela gaf ons ook haar homemade granola, noga en butterscotch mee. Wat een verwennerij zeg!

I would like to thank Linse, Manuela, Tommes and the BakeryShop! It was an amazing event and I learned a lot about baking shortbread-base cakes, new camera techniques and food photography.
If you are also interested in a baking workshop, or you have any questions about food photography, then take a look at the following websites: www.baklokaal.nl and www.linsefotografie.nl. For future workshops just make sure to keep an eye out on these ladies' Instagram feeds!

Dank jullie wel Linse, Manuela, Tommes en de BakeryShop! Het was een geweldige dag en heb veel geleerd over het bakken van een slof, mijn camera instellingen en food fotografie. 

En mocht jezelf ook interesse hebben in een bakworkshop of heb je vragen over food fotografie? Neem dan een kijkje op de website van baklokaal.nl of linsefotografie.nl. Voor toekomstige workshops hou je de Instagram feeds van deze ladies in de gaten!